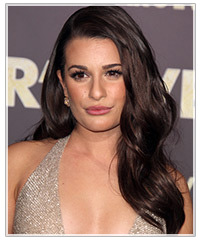 It's hard to believe that stunner Lea Michele was once bullied for her looks—kids can be so cruel! Of course, Lea is having the last laugh now, being the successful actress and beauty that she is. While her career goes from strength to strength, so does her style evolution.
In her latest look, her long espresso brown hair is looking ultra healthy and shiny, not to mention thick. Instead of over-layering, Lea has just a few long layers in the mid-lengths and ends to give it some movement while maintaining its thickness. Her style is simple (just loose waves with a side hair part) but classic and sophisticated. It's also versatile—this style would look just as good with jeans as it does with a sparkly evening gown.
The second half of this stunning look is the makeup. Lea has warm, medium toned skin which looks great with her rich mocha hair color and dark brown eyes. She has kept her makeup pretty but natural-looking, with some dark brown eyeliner, light brown eye shadow and a nude pink lipstick. Her cheeks have some extra warmth thanks to a bronzer, but her makeup would have still looked good with just a sheer highlighter on her cheekbones to match her shimmery dress. In any case, this look is naturally beautiful, just like Lea Michele herself.
See more Lea Michele hair and makeup looks.