Emma Stone has been gracing the red carpet all over world to promote The Amazing Spiderman film, and has looked glam at every single event. With her recently lightened hair, Emma has been trying a range of makeup looks to go with her blonde locks. Here, she is sporting makeup that is inspired by the vintage look of the Twenties. This makeup looks fabulous for a swanky evening out, especially if you are wearing a little black dress like Emma. Here's how to get the look: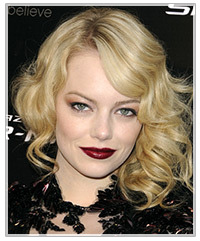 Emma has highlighted her eyes with a warm copper eye shadow that intensifies her blue eyes. Black eyeliner is used on the top lash line and the outer corners of the bottom lash line, with subtle smudging for a soft smokey effect.
The rest of her face is bare except for that dark and dramatic lippie. Her deep blood red lipstick has just a hint of sheen—it's best to avoid matte or overly glossy formulas in this striking color.
This vampy look calls for equally head-turning hair, so do an Emma and create a Twenties- style loose wavy bob. Do this by by tucking your hair under (if you have long hair), or adding waves to your bob, along with a deep side hair part. This is a sophisticated look that is perfect for a swanky night out.