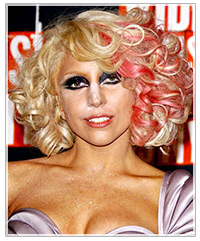 Do you ever wonder what it's like in Lady GaGa's world (or some may say "on her planet")? Whether you love or hate her, you've gotta admit she's always pulling something new out of the bag. We didn't think it could get crazier than the meat dress, but GaGa is experimenting with a new look everyday which at very least, provides some outrageous makeup inspiration.
Everything she does with her hair and makeup is so overdone and in-your-face. And while 99% of the population could never pull it off, it is possible to do your own version of a pared-down Lady Gaga if you are feeling particularly adventurous.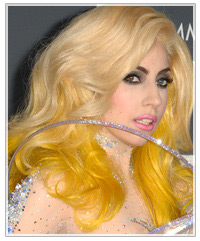 GaGa has strong features—her eyes, nose and lips are prominent and make for a great canvas for her wild looks. Yellow hair aside, she actually rocks a very beautiful cool silver smoky eye, paired with bubble gum pink lipstick. The eyebrows are too Madonna circa 1982, but the rest is a fantastic evening look full of drama.
She doesn't always get it right however. Heavy black eyeliner with orange eye shadow and white powder should really be reserved for the stage only!
Check out Lady GaGa's outrageous hair and makeup.