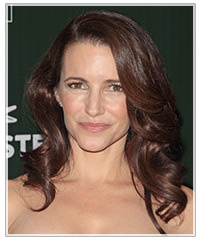 Kristin Davis is best known for her role as the ultimate romantic Charlotte in Sex and the City. It's hard to believe that show has been on since the Nineties, especially when you look at Kristin Davis then and now—time has obviously not had an effect on this brunette beauty!
Kristin's hair is always worn long to medium-long, with loose romantic waves added to the lengths and ends. A side hair part adds body to her cheekbone-length fringe and complements her heart-shaped face.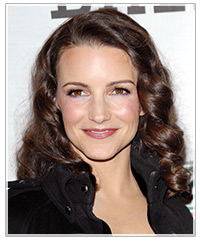 Her secret to a youthful appearance may not be in just her glossy locks, but her fresh, minimal makeup. Kristin sticks to cool shades of pink for her lips and cheeks, which gives her medium-fair complexion a nice rosy glow. To bring out those big brown eyes, she uses a chocolate eyeliner on the top lash line and shies away from too much eye shadow, which can add on the years (SJP take note!). Instead, she uses a sheer layer of champagne or bone colored shadow on the eye lid and brow bone, and highlighter around the eyes and cheeks for that extra bit of sheen.
See more Kristin Davis hair and makeup looks.