Khloe Kardashian is usually preened to perfection but her latest look is, well… lacklustre. On both the hair and makeup front, Khloe has seen better days. Here's what went wrong: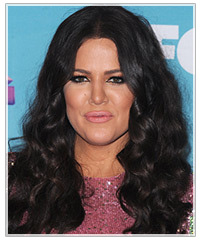 • Khloe has a full face shape and short forehead, so like Fergie, does not suit a severe centre hair part. To create some angles in her face, Khloe would do better with a side hair part or even better, an eye-skimming side swept fringe.
• Khloe's hair color is also dramatically dark here, which could be a nice look if it were one shade lighter. Her hair is darker than her eyebrows and the lack of definition makes it look too harsh for her complexion.
• On the makeup front, Khloe has gone for a heavily lined eye, which looks great with her large cat-like eyes. Her over-application of the bronzer isn't working so well however. Her lipstick is another fail, with the liner being too dark to match her lipstick color (therefore resulting in an obvious line around the lips) and the light, cool pink shade clashing with her very warm and tanned skin tone.
Khloe usually gets the hair and makeup right; so let's chalk this one up to an experiment with color gone wrong!
For even more helpful makeup hints, see our full range of beauty articles and beauty blogs. You can even try some virtual makeup on your own photo or our model using our Virtual Hairstyler!