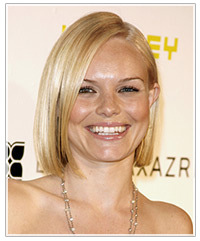 Since Kate Bosworth made her debut on the big screen as a surf chick in Blue Crush, she has embodied the California Girl look with her corn silk blonde hair and captivating eyes—one blue and one hazel! Not many people in the world can say they have two different colored eyes, which sets Kate apart from the usual blonde-hair-blue-eye Hollywood starlet crowd. Kate's cool ice blue and warm hazel eyes suit different makeup, so naturally, she keeps it neutral.
To get Kate's look, start with a tinted moisturizer, followed by a bronzer on the cheeks, forehead and a very light dusting on the bridge of the nose. This will give you that sun-kissed California glow. Next, bring out your blue or green (or both if you're like Kate) eyes by lining the upper and lower lashes with cinnamon or copper eyeliner. Keep the line soft and slightly smudged out at the outer corner of the eye. A shimmery nude eye shadow will add just enough sparkle to the lids for a made-up, yet natural look. Finish off the eyes with brown mascara.
To go all natural, simply use a tinted nude lip gloss on the lips. If you want a more powerful look, try a bright berry lip instead.
See more of Kate Bosworth's hair and makeup.