Sometimes it's a deep auburn red, other times it's a vibrant cherry red shade. One thing is for sure, however Jillian Rose Reed wears her red locks, her makeup is always spot on. Check out these photos for some fabulous makeup ideas to wear with deep red hair.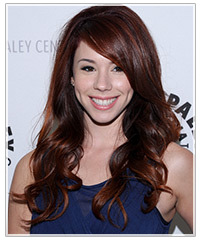 Here, Jillian harmonizes her fair skin tone and dark auburn locks with  simple black eyeliner, mascara and a soft pink lip. Cool shades like pink, black and silver look stunning with deep red hair shades, so make sure to add those to your makeup bag.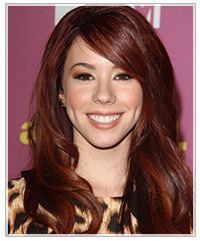 For ladies who like to wear warmer shades, try out this peachy palette. Jillian has highlighted her eyes with shimmery light copper eye shadow followed by black eyeliner and mascara. Her lips and cheeks are glowing, thanks to a nice bronzer and an apricot lippie.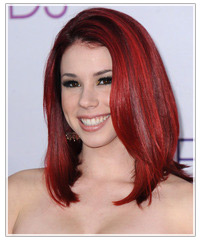 In her most recent look, Jillian is sporting blood red hair and a cool makeup palette to match. If you have pure red hair like this (with no brown undertones), then cool colors are the way to go—black eyeliner and a soft pink lipstick are your essential items!
For even more helpful makeup hints, see our full range of beauty articles and beauty blogs. You can even try some virtual makeup on your own photo or our model using our Virtual Hairstyler!