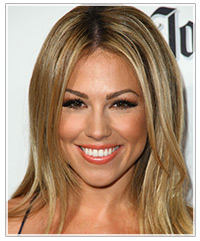 Reality TV actress and radio host Jessica Hall is known for her exotic looks and sexy style. Being a former Playboy model, Jessica doesn't exactly go for the natural look, but in this picture she gets her makeup just right. If you have a warm skin tone like Jessica, you will look hot in this makeup whether you have black, dark brown or highlighted blonde hair.
Jessica's golden tanned complexion is the perfect base for the warm bronze and coral color palette that we see here. Her brown eyes are brought out with thick dark brown eyeliner that has been extended out past the lash line. Bronze and terracotta eye shadow adds color to her lids and brow bone and further brings out her eyes. Her highly arched eyebrows and ultra long eyelashes are the icing on the cake.
She has applied a soft bronzer on the apples of the cheeks which sweeps up towards the temples for a sun-drenched look, and her pearly whites stand out next to the soft coral shade of lipstick she has chosen.
This is a sexy summer evening look that suits women with a warm skin tone. To take it from night to day, leave the eye bare except for a coat of mascara.
See more Jessica Hall hair and makeup looks.