Jamie King was looking stunning at this recent red carpet event as she pulled out all of the style stops. Gorgeous black dress? Check. Buttery blonde waves? Check. Flawless vintage-style makeup? Check!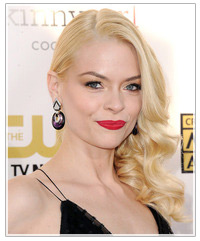 This look is a winner for many reasons. First, because it is simple. Second, because Jamie has modernized it with her lipstick color choice and eyeliner style. And finally, because you can't go wrong with soft cascading waves. If you want a simple, elegant and glam look to create for your next formal event-give this one a try. Here's how:
The Hair:
This will work for short to long hair, and can be achieved on straight, wavy and curly hair. Ladies with straight hair can use a curling wand to get Jamie's curls, whereas women with curly or wavy hair will have to blow-dry this style in with the help of a round brush- dry the hair straight and just before the lengths and ends are totally dry, create a corkscrew curl with the round brush. Focus the hairdryer on it for 3- 5 seconds. Remove the heat and let the hair cool down, then unravel.
The Makeup:
Jamie is wearing a sunset bronze eye shadow that will work on women with warm undertones. If you have cool skin, go for a pretty light pink instead. Accentuate the eyes with black eyeliner and mascara, and then follow it up with the hottest shade of lipstick in 2013-cherry red.
For even more helpful makeup hints, see our full range of beauty articles and beauty blogs. You can even try some virtual makeup on your own photo or our model using our Virtual Hairstyler!