This is one extreme topknot, and although it may cause the wearer pain, it does provide the perfect frame for a stunning makeup look, which is exactly what Jennifer Lopez is wearing. She's gone for an exotic look here, which is a departure from her usual smoky eye shadow technique. It's a modern day rendition of the Cleopatra-style cat's eye look, and here's how you can get it!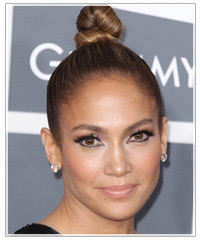 Jenny's base looks natural and has a nice sheen to it, so use a light foundation that lets your skin breathe- a mineral formula will do the trick nicely. Then, make sure your brows are groomed into place and fill them in with a soft pencil to get a really strong frame for your eyes going. Next, use a light cream or white eye shadow on your lids to create some light around the eyes—this is important when you are going for a fully-rimmed eyeliner technique.
To create this Cleopatra-style eye, use a sharpened eyeliner pencil and start on the top lash line, drawing a line from the inner corner and creating a flick on the outer corner. Go back to the inner corner and extend the line slightly downwards. Then go to the lower lash line and join it with the top lash line, starting from the outer corner and finishing at the outermost point on the inner eye.
This can be as dramatic as you like, so experiment with the amount of eye shadow and liner you apply. For a more daring look, use a bright eyeliner shade like teal, purple or electric blue.
For even more helpful makeup hints, see our full range of beauty articles and beauty blogs. You can even try some virtual makeup on your own photo or our model using our Virtual Hairstyler!