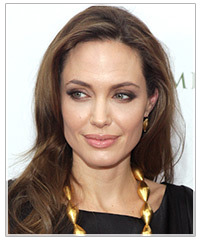 Angelina Jolie is known for being one of the world's most beautiful women. With her full lips, large blue-green eyes and flowing chestnut locks, it's easy to see why men and women alike can appreciate her beauty. What's refreshing about Angelina is that she doesn't need to be a clothes horse or trend-follower to look great—her simple, understated style lets her natural beauty shine through.
Angelina has kept her hair the same for the past few years. While yes, it can get boring, this busy mom of six and United Nations worker probably has better things to think about than her hair!
Her makeup has also remained simple—which makes it easy to copy the Angelina look. This makeup works best for medium skin tones with brunette hair and light eyes, but will also suit lighter shades of hair as well. Use earth tone shades (like dark brown, warm cinnamon and beige) of eye shadow around the eyes. Start by layering the two lightest shades on the eyelid and blend it up to the brown bone. Using the darkest color of eye shadow, line the upper lash line and lower lash line's outer corner with it. Then use a blending brush to soften the edges.  Finish off the eyes with a coating of brown mascara. For some extra color, use a light coating of medium pink blush, then follow up with an earthy pink lipstick. Make sure it's sheer to give that natural, Angelina effect.
See more Angelina Jolie hair and makeup looks.