Paula Patton recently attended a red carpet event looking dazzling. Her silver dress, shiny hair and icy cool makeup palette was pure a-list. You too can look as good as Paula by following these simple style tips.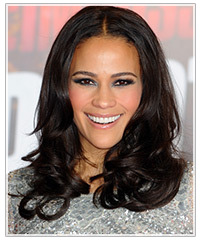 1. To style your hair like Paula's you will need shoulder length or longer hair. She doesn't have bangs but if you currently have a fringe this look will still work. Once you have set your hair in hair rollers, give it a spray to set the curls. Remove the rollers, keeping the curls in place and part your hair down the middle of the crown. Gently separate the ends of the curls with a pick or your fingers, and use a gloss spray to finish it all off.
2. To get Paula's makeup, use a charcoal liner to create a cat's eye shape around the eye. Layer silver, grey and black eye shadow (focusing the darker colors in the crease and outer eye corner), making sure to blend some light grey around the inner corners. Finally, add some fake lashes to the upper lash line, a light dusting of pink blush on the apples of your cheeks and a natural lip gloss. Enjoy this super glam look on your next night out!
See more Paula Patton hair and makeup looks.