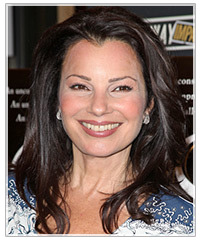 I think Fran Drescher is great, I really do. I also think she is ageing phenomenally well. What I don't like is her makeup in this photo, because it makes her look a lot less fabulous than she really is.
Fran has lovely, glossy hair in a rich shade of brown-black. Her layered haircut shows off her great bone structure and beaming smile fabulously, and she has just enough wave in it to look natural and voluminous. Unfortunately, her makeup is a let down and ruins her otherwise classy look.
Fran's dark hair and eyes are nicely contrasted by her peach skin tone which would look great in warm metallic shades of bronze, gold and copper. Instead, she has opted for lighter, cool shades around the eye which gives off a white 'mask' effect. For mature women, this only adds age to the eye area. For her cheeks and lips, she has opted for earthy shades that are quite ruddy and matte. To bring out her youthful glow, Fran would do much better with pinky-peach tones that are light and sheer. Mature women can learn a lot from Fran's look here—keep it light, bright and luminous!
See more Fran Drescher hair and makeup looks.