If you are of Oriental descent and have a cool ivory skin tone similar to Fan Bingbing's, you too can rock this look at your next event. Her skin looks flawless without any hint of shine, so if you want a change from flaunting dewy skin, this is the look for you.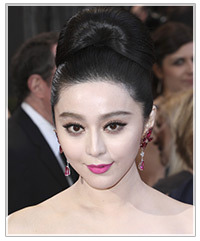 The first step is to find a light foundation and concealer with a matte finish. Use a powder or mineral veil to remove any excess shine caused by your skin's natural oils.
The next step is to apply a cool brown eye shadow on the lid and on the bottom lash line. Then, line your eyes with eyeliner that matches your natural eye color on the top lash line only. If you like to wear lighter-colored contacts, remember to match your natural color (most likely brown or black). Top it all off with dramatic fake lashes.
Finally, apply a cool fuchsia, cerise pink or any other purple-based lipstick shade. This will work wonders with your complexion and add a trendy pop of color.
Don't forget a glam pair of silver or jewel tone earrings to complement your makeup—Fan's chosen deep pink stones to match her lippie!
For even more helpful makeup hints, see our full range of beauty articles and beauty blogs. You can even try some virtual makeup on your own photo or our model using our Virtual Hairstyler!