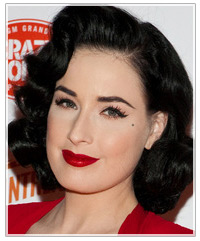 There are few people who can pull off the authentic retro pin-up look, but Dita Von Teese has had no problem emanating that old-school glamour. From her sleek jet-black pin curls to her alabaster skin, Dita looks as if she's from another time. Von Teese's makeup colors and techniques are fabulous inspiration for women who also have porcelain skin and dark hair, and crave a classic look. Her beauty book is supposed to be released this year, so hopefully her secrets will be revealed to everyone soon!
Dita doesn't do casual; in fact she says she would never dream of leaving the house with unpainted nails! She is always dressed to the nines, with makeup to match.
She says she perfects her flawless skin with L'Oreal True Match foundation, but I reckon she also uses a whole lot of MAC products seeing as she was once a collaborator with the brand. Her Fifties-style black eyeliner is easily achieved with a liquid eyeliner, winging the tips out towards the outer eyebrow. She plays up her strong cheekbones with a soft peach blush, or for evening, a rosy pink.
Finally, the trademark red lips. Dita Von Teese loves matte lipstick, but this isn't always easy to find. Her favorite lipstick are Guerlain Excess de Rouge and Dior's Rouge Bingo, although she tweets about buying drugstore brands as well!
See more of Dita Von Teese's pin up girl hairstyle and makeup looks.