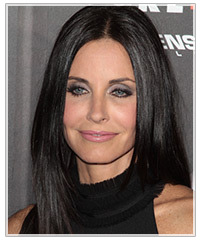 Courteney Cox hasn't changed up her look that much over the years, but one thing is for sure; her smokin' hot looks are giving "cougars" a great name! In her sitcom Cougartown, she plays a divorced 40-something looking for love and trying to relive her youth by dating younger men. In reality, she keeps her youthful looks by knowing what colors to wear, and in her case it's all about being cool.
Cox has cool, fair skin and bright sky-blue eyes, which looks gorgeous with her raven black hair. She goes for an ashy blue-black rather than a warm red-black which complements her complexion. Her hairstyle is kept straight and simple to show off her glossy locks, and it also suits her angular face shape. She sticks to the cool colors in her makeup as well—light rose pink lipstick and silver eye shadow gives her skin a luminescent, dewy glow.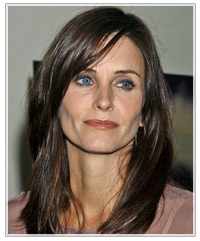 On the other hand, we can see how Courteney looks much older in warm colors. Here, the warm highlights in Courteney's hair make her skin look ruddy, while the nude and brown shades of her makeup clash with her skin tone.
If you have cool, fair skin and light blue eyes, follow Courteney's style and use her icy cool hair and makeup shades to bring out your best features.
 
For even more helpful makeup hints, see our full range of beauty articles and beauty blogs.