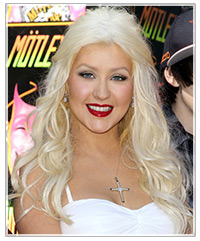 Christina Aguilera has graced more than her fair share of "Worst Dressed" lists in her day, but one thing she has nailed is the bleach blonde look. Over the years we've seen her go from bubbly blonde teen star to a raven-haired dirrty girl, with more looks in between—some good, some truly frightening.
Recently, she's been seen sporting a much fuller figure but although her body is changing, it seems Aguilera is happy to stick with her peroxide locks, red lips and black liquid eyeliner. It's the classic Forties-inspired glamour puss look that compliments sleek updos or loose, tousled tresses.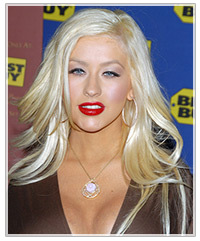 Christina's makeup is easy to copy. Use a black liquid eyeliner and wing out the outer corners towards the outer eyebrow. A light shimmery shadow helps to brighten up the eye, much like Christina's pearly shade (see left). The essential part of this makeup look is of course finding the right shade of red. Cool complexions like Aguilera's look best in blue-based reds. Warm skin tones are better off using an orangey-red shade.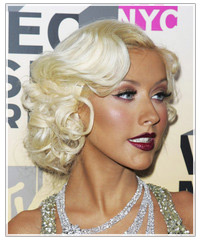 Or, go dramatic with a gothic burgundy lipstick and plum eye shadow. This look works best with platinum blonde hair…it also helps if you are dripping in diamonds like Ms Aguilera (see right).
Check out more of Christina Aguilera's platinum hair.