If you have natural or dyed copper hair, you may get stuck for makeup ideas from time to time. Having red hair means that your makeup has to compete with a vibrant color and it can be easy to clash if you are not careful. Carrie Keagan was recently spotted on the red carpet wearing a very pretty makeup palette, so if you have copper or strawberry blonde hair, take note!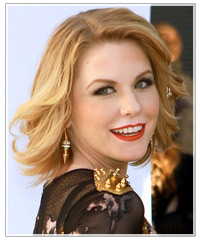 If you can rock copper hair, chances are you have a cool skin tone that is either medium or fair. You may also have some freckles that add to your complexion. Carrie is working a glamorous evening look here and pulls off the red lip successfully- which can be tough when it comes to having copper hair. She has chosen a flattering shade of red by choosing a cool red that is not too dark, and not too "blood" red. To add color to her cheeks, Carrie used a light peach blush that harmonizes with her complexion and hair color. Her eyes stand out with dark smokey eye shadow and of course, super long lashes.
You too can look as glamorous as Carrie with this makeup color and technique—don't forget to top it off by styling your copper locks into a sophisticated style.
See more Carrie Keagan hair and makeup looks.