Carly Rae Jepsen has beautiful icy blue eyes that are on the smaller side. Paired with her heavy fringe, Carly needs to use makeup to make her eyes more prominent and draw in the attention they deserve. If you also have eyes that are on the small side, try these tricks to make your eyes look bigger.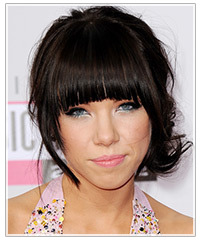 • Use liquid eyeliner to create wing tips on the outer corner of the eye. Don't be afraid to make these dramatic! Just remember to flick the ends up slightly, rather than extend them straight out—we're going for the cat look, not the Cleopatra look here!
• On the upper eyelid, Carly has used a warm apricot eye shadow that looks fab with her dark hair and light blue eyes. Whatever your preferred shade is, keep it light and go for a shimmery formula to bring more light to the eye area.
• If you must wear eyeliner on the bottom lash line (not recommended for small eyes) then apply a light line on the outer corners to the middle of the eye and blend in.
• Finally, use Carly's clever trick and use white eyeliner under the bottom lash line to make those peepers pop!
For even more helpful makeup hints, see our full range of beauty articles and beauty blogs. You can even try some virtual makeup on your own photo or our model using our Virtual Hairstyler!