Blair Fowler was looking smoking hot in this photo, taken as she attended a red carpet event. She is known for her exotic looks and shiny long hair, which were enhanced with her flawless makeup on this particular night out (not to mention her sparkly multicolored dress- how fun is that?!) The best part about her makeup is that it's simple and easy to achieve in minutes. You can get this look at home too! Here's how: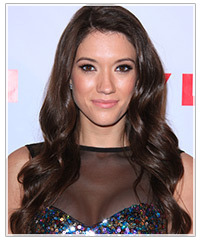 1. This makeup look is all about the eyes so let's start there. Use a deep espresso brown pencil liner to draw a cat's eye line on the top lash line. Wing the edges out slightly towards the temple.
2. Next, draw a thin line on the bottom lash line extending from the inner corner to the outer. Warning- if you have small or close-set eyes, line the outer corner area only, or skip this step altogether.
3. Finally, use a light rosy pink lipstick that is either a cream or a satin base. For evening a lip gloss would also work nicely. Ta-da- you are now red carpet ready!
This makeup will suit ladies with dark brown hair and dark or light eyes with cool or warm skin tones. If you're warm, just choose more peachy-based colors rather than pink ones.