Angelina Jolie is usually spotted on the red carpet sporting a vampy look, however recently she has been lightening up—literally. Here, Angie is simply glowing with her honey-highlighted hair, flawless skin and minimal makeup. Some may argue that her glowing forehead in particular is due to cosmetic procedures…but that's another story altogether!
You can copy this look, sans Botox, by using the same hair and makeup techniques that Jolie's team uses and look like a million bucks. Here's how: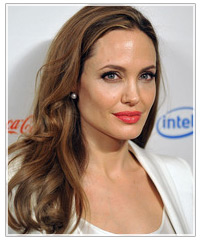 To get her Hollywood hair, you obviously need naturally long hair or if you have short hair, some form of hair extensions to get the added length. Then, use large hair rollers (1.5"-2") to set your hair. Unroll after they have set, and use your fingers to separate the lengths and ends. Create an off-center hair part and spray with a light, flexible hairspray to get this soft look. Keep your makeup simple by using a light brown eye shadow and dark brown or black eyeliner on the eyes. The best part of Angie's look is her cool pink lips that are eye-catching but soft at the same time. Angelina's cool skin looks great in this shade, but ladies with warm skin will look even better in a brighter coral pink shade. It goes to show that red carpet looks do not need to have red lips to look sophisticated and classy.