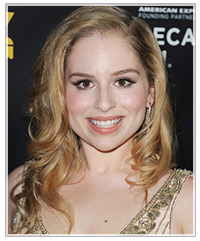 If you have natural brown hair and lighten it to a blonde, chances are it will have a gold tone to it rather than be a wheaty blonde. Case in point—Allie Grant. Allie is a natural brunette of a mousy brown demeanour, but her highlights create a golden blonde tone. While this color wouldn't suit someone with a cool skin tone, Allie can pull it off with her warm peaches n' cream complexion. Her makeup contains just the right color palette for natural brunettes who have lightened their hair to a golden shade, so if this applies to you, read on!
The key thing to remember is that golden blonde hair has a lot of warmth and therefore will not work with cool makeup—for example, silver eye shadow. Instead, stick to warm peach, apricot, terra cotta and nude shades like Allie. If you prefer darker colors on your eyes, try chocolate brown eyeliner and eye shadow to bring them out. On the lips and cheeks, go for peachy perfect shades or soft nudes. Keep it light on the cheeks and wear a more intense shade on the lips. Finally, make sure to wear gold accessories with this hair color for best results.
For even more helpful makeup hints, see our full range of beauty articles and beauty blogs. You can even try some virtual makeup on your own photo or our model using our Virtual Hairstyler!