Having dark features gives you the go-ahead to try out deep and dramatic shades, bold hues and of course, you can always rock the natural look too. Here, Alicia Machado is wearing a beautiful hybrid of a formal and casual look. Her eye makeup is full of drama while the rest of her face looks natural and glowing. This makeup can work for day or night, so give it a go if you have tanned skin and black or dark brown eyes.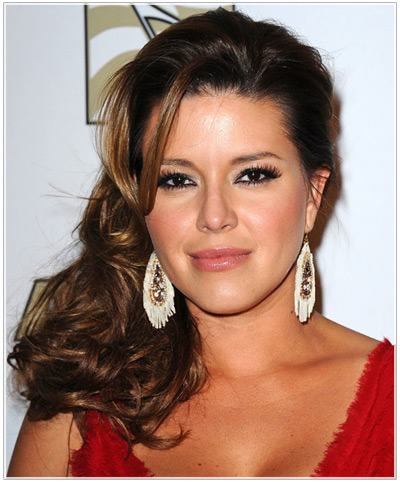 The Eyes: Use a light or neutral shade on the eyelid as a base. Then layer a dark grey eye shadow over the lid to give it some depth. Follow it up with black eyeliner on both the top and bottom lash lines and mascara. To create an evening look, you can add some fake lashes as well.
The Cheeks: Alicia makes the most of her tanned skin with a coral pink blush. This shade gives her a sun-kissed glow, but unlike a bronzer, the pink tones add a fresh, healthy tone too.
The Lips: Earth tones work great on tanned skin, and Alicia's soft beige-pink shade is the perfect choice. Add some gloss for an evening look.
For even more helpful makeup hints, see our full range of beauty articles and beauty blogs. You can even try some virtual makeup on your own photo or our model using our Virtual Hairstyler!