Although we all love to add a warm glow to our makeup, sometimes trying to look sun-kissed just ends up as a makeup fail! Sun-kissed makeup can look too orange, too shimmery or even give you a greasy (rather than healthy-looking) glow if you don't use the right products or application. For the perfect beach babe look, copy Ashley Benson's sexy sun-kissed makeup technique.
This makeup application will work for girls with fair, medium or olive skin. Cool skin tones will want to use peach-pink shades (like corals) whereas warm skin tones should use bronze and gold-based shades.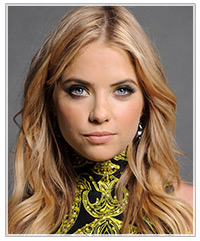 The most important part of looking sun-kissed is the cheekbones, because they catch all of the sunlight. Here, Ashley has used a bronzer on the apples of the cheeks and blended it down under the cheekbones, which warms the face up and also creates a slimming effect. Make sure to use an extra large blush brush to really blend it all out so that you don't get the dreaded patchy orange effect. Ashley has also used a matte bronzer, which is more natural looking than the shimmery kind (and a definite must if you have oily skin).
Next, let's look at the eyes. Ms. Benson has used a dark brown eye shadow around the eye to create a seductive smokey look. This looks great on brown, hazel and blue eyes. If you want a more natural daytime look, skip the eyeliner and use mascara only.
Finally, for the lips, choose a nude lipstick or a subtle clear lip gloss to finish off this beach babe look.