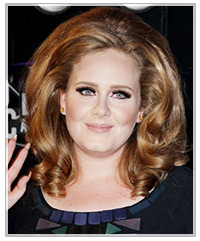 Along with her deep and soulful voice, singer Adele has one fantastic head of hair going on. This London girl has wowed the world with her strawberry blonde mane that is 100% showbiz. Adele is never seen with limp, flat hair. For performances and red carpet events, she always has hair with maximum hair volume and shine, and usually wears a Sixties-inspired flip or beehive-esque 'do.

Here, Adele has added mega-volume to her hair by fist adding large corkscrew curls, and the teasing out the roots to create height, especially at the crown. Her long bangs are worn off the face to show off her huge blue eyes and dramatic lashes.
Speaking of which, Adele channels the Sixties in her makeup as well, by wearing thick black cat's eyeliner, fake lashes and large does of black mascara for a Twiggy-inspired look. She finishes it all off with a bit of peach blush and nude lips.
If you want to try a retro look, copy Adele's hair and makeup style. This hairstyle works especially well for round face shapes and square face shapes who will benefit from the extra height in the hair. And don't forget the hairspray—this high-volume look needs an extra strength spritz to stay in place!
See more of Adele's hair and makeup looks.