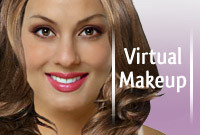 If you can never decide what eye shadow colors to buy, always end up with the wrong color foundation, or if you just can't decide how to make up your face for that next big event then virtual makeup could be just what you need.
Foundation Fun
Applying virtual foundation to your face helps to create a smoother, more even skin tone and can even help you decide which foundation colors will and won't suit you.
Virtual blush will show you if a just flushed look is for you, or if an apricot shade is the perfect blush color to create a contour for your cheekbones.
Epic Eyelashes
If you've ever wanted to try false eyelashes but didn't want to fork out the money without knowing if you could pull off a movie star look, or if you just want to see how well a colored mascara will suit your blue eyes then give virtual eyelashes a try and see for yourself, risk-free.
Eye shadow can really make or break a look but who has the time or the money to try 100's of different shades and looks? With virtual eye shadow all the hard work is done for you and you can try on a range of colors and looks without the need to purchase lots of different eye shadow.
Defining Eyeliner
See how much interest you can add to your eyes using virtual eyeliner in different shapes and 100's of different colors.
Luscious Lipstick & Lipliner
Choosing the perfect lipstick shade, or knowing if your lipliner will match can be hard to tell based on in-store tester shades. See firsthand if red lips are for you or if nude lips are the way to go by trying virtual lipstick and lipliner shades.
Virtual Makeup Looks for All Occasions
If you've got a big event like a wedding, formal, evening out or just a party or day in the office then you can plan your makeup look using virtual makeup.
As you can see, virtual makeup will instantly show you which colors will look good and what looks will work for you. After that, all you need to do is buy the makeup with the hard work of knowing if it'll suit you when you get home already done!
To try TheHairStyler.com's virtual makeup today, use our Virtual Hairstyler with your own photo or our model!
If you're not already a member then you can signup here.