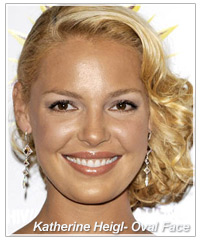 Those with an oval face will have a similar face shape to Katherine Heigl (pictured right) and will recognize that their forehead and jaw have the same width.
An oval face shape is considered to be the ideal face shape and only requires makeup as an enhancement for the bone structure. For further advice, try these tips:
Eyes
Use a bronze shadow all over your eyelid and mark out your socket line with a softly smudged brown pencil.
A pearly pink eye shadow applied in the area above your socket line will create a delicate look.
Using a blue kohl pencil along the edge of your eyes (above the lash line) will emphasize the size of your eyes.
A fine line of softly smudged pencil under your lashes will enhance your eye color.
Cheekbones
To enhance your face shape, blend blusher on your cheeks and almost over to your hair line.
Lips
A rich, deep pink lipstick color applied entirely over your lips will enhance any curves. For more tips on shaping your lips, see our beauty article, Makeup Tricks: Shaping Your Lips.
To see the difference lipstick can make to your face shape visit the extras section in our Virtual Hairstyler and try out our selection of lipsticks.
When it comes to makeup, the number one rule is that you should always be comfortable. Use these tips and makeup color suggestions as a guide for creating your own look and remember that all face proportions are different and the aim is to balance your own individual features within your face shape.
For another way to flatter your face shape see our hairstyles article, The Right Hairstyle for Your Oval Face Shape.
You need to be a member to post comments. Sign up Or Login