250 STYLISH SHORT HAIRSTYLES AND HAIRCUTS FOR WOMEN IN 2023
If you're looking for a new short hairstyle or would like to cut your hair, have a look at these classy short hairstyles that will offer you inspiration in finding your perfect hairdo. For a small amount of effort you can look great in straight, wavy or curly short hairstyles that are easy to style and maintain, regardless of your age, hair texture or density. They include unusual, daring, bright, fun, avante-garde, geometric and exaggerated hairstyles that are sassy, eye catching and appropriate for every occasion or event.

We are aware of the fears that women face when it comes to chopping their hair short. It's a big change and we will try and make this change easier for you, to help you find the perfect short hairstyle that will suit you best and look great on you, by offering hairstyle suitability information such as face shape, hair texture, age and complexion.

Short hairstyles look flattering on almost everyone, and whatever your preference, our hairstyles gallery from the top hair salons around the world will inspire you to try on some great straight, wavy and curly short hairstyles that are trendy and versatility. So check out our hairstyles below, try on these short hairstyles and see which one suits you best! Displaying hairstyles
251 - 252
of
252
in total Glamorous and effortless, this short-length straight dark brunette hairstyle has a soft feel with a shiny sheen and plenty of bounce. This 'do is a...
read more.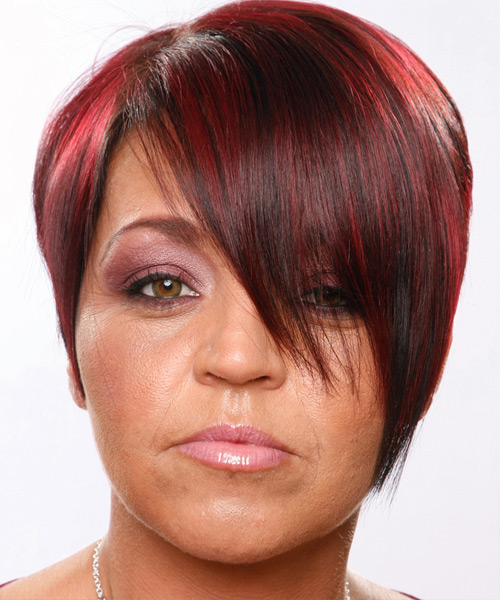 The short dark red hairstyle is a flattering style that features blunt, swirled bangs parted down the left side, giving it a modern and edgy...
read more.