We can't believe it, but we are almost at our final viewer trend report of 2014!
Overall, this year has been all about the wavy bob hairstyle, which has been in the top five every month. And of course, whatever Lisa Rinna was wearing was also a favourite, because she just can't get it wrong with her hairstyles… ever!
This month took an interesting turn however, and the long and wavy hairstyle favourites have given way to pixie cuts and short bobs. Let's check out the top five hairstyles for November, as chosen by you, the viewer!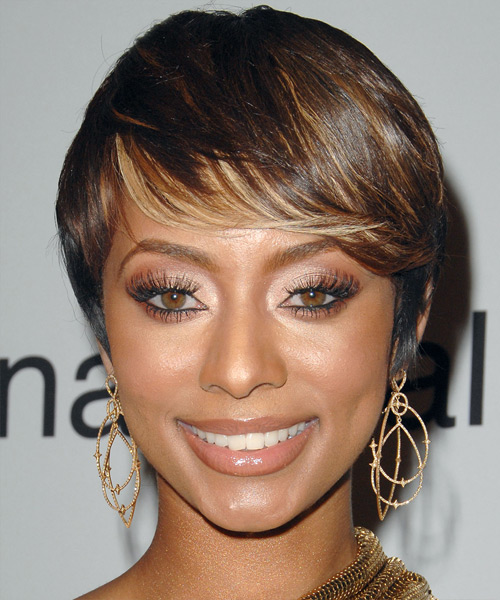 In the number five spot is the ever-gorgeous Keri Hilson. She looks flawless here in a longer version of the pixie cut that shows off her large eyes and beautiful smile. This haircut is tapered in at the sides and back, with longer layers sweeping over from her side part to join her fringe. Keri's colour is bang on trend too, with a warm brown shade on top and peek-a-boo golden blonde pieces underneath.
Tricia Helfer takes the number four spot with her simple strawberry blonde bob. This sleek 'do goes from day to night with ease and only takes minutes to style. Tricia's bob has a lot of volume in the crown, making it a good choice for women who have fine hair. The colour is another nice feature of her hairstyle, with a golden blonde base and strawberry blonde tones throughout.
In the number three spot is another pixie cut, as seen on our model. This hairstyle is cut over the ear and features tightly tapered sides and back. The top layers are left jagged and choppy to create maximum volume and body. This cut is perfect for women who want a wash and go hairstyle. The chocolate brown colour is another bonus to this 'do, and is the perfect shade to flaunt in the winter!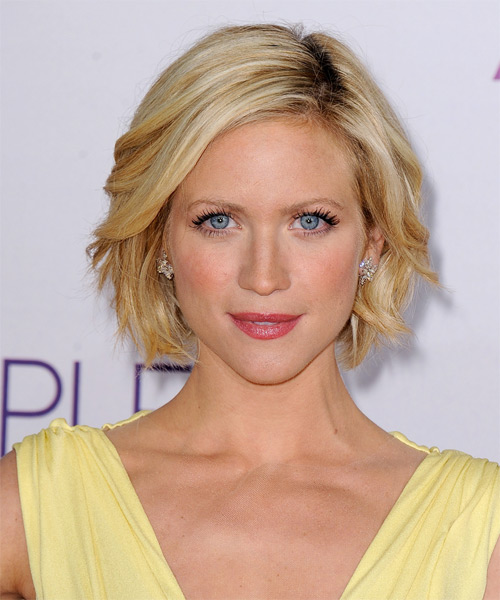 In the number two position is Brittany Snow with her short wavy bob. This is an elegant look that can be pulled off for day or night, depending on your outfit and makeup of course. Brittany's jaw length bob has been finger parted on the side and waved with a curling wand. The hair has been styled off the face for an elegant and enchanting look.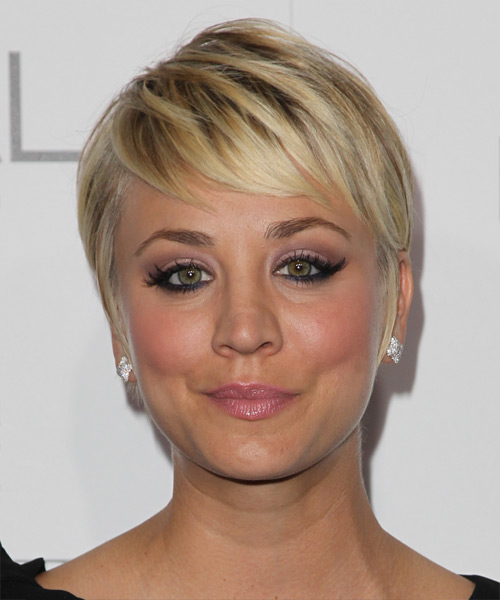 And in the number one spot this month is Kaley Cuoco with her now-famous pixie cut! Kaley's chic short cut debuted a few months ago and was quickly copied by many women. This cut has longer jagged layers on top which Kaley styles up with a deep side part and a little product to give it some texture. The colour is another standout feature of this 'do. Kaley' s wheat blonde locks compliment this cut nicely and match her green eyes and tanned complexion.
As you can see, November was a month of short and chic cuts. Our friend Lisa Rinna didn't make it to this month's top five (shocking!) but check back in December to see if she makes it in the viewer trend report one last time before 2014 is over. And, of course, it will be interesting to see what hairstyles are going to be most popular in the final month (and party season!) of 2014.