Is it time for you to update your hairstyle? Whether you have long hair and are considering the big chop, or you already have short hair and just need an update, there is no better place to look than the red carpet.
With access to the best hairstylists in the world, these celebrities are the first to showcase what is new in hair and makeup, with the exception of what is seen on the fashion runways. With that being said, we all know that runway hairstyles are usually more fantasy than reality, so it's better to copy celebrity hairstyles if you want to turn heads for looking good, not avant-garde!
While long hair has always been the norm on the red carpet, short hairstyles are definitely gaining popularity on celebrity women of all ages. Maybe they enjoy the no-fuss styling that short hair provides busy women on the go. Or maybe they like to showcase their faces more with a shorter 'do. Whatever the reason, these celebrities are rocking short hairstyles on the red carpet, and they are doing it with style. If you need to freshen up your look, check out these short 'dos and see which one is right for you.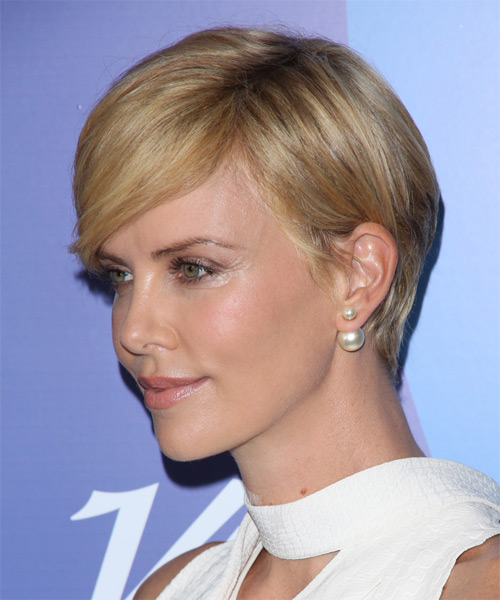 Regal and Elegant
Charlize Theron never tries to pull off a look that is too trendy or edgy. Instead, she works with her classic features and sophisticated sense of style when she chooses her hairstyles. Here, she is wearing a gorgeous layered short hairstyle that has longer layers on the top and a tapered back and sides. Charlize makes the most of this hairstyle by styling it with a deep side part and a dramatic side-swept fringe. This hairstyle would look just as good styled towards the face, but Charlize's tuck behind the ear shows off her amazing cheekbones, long neck and of course, those fabulous earrings! This style will work for you if you have an oval, oblong, square or diamond-shaped face.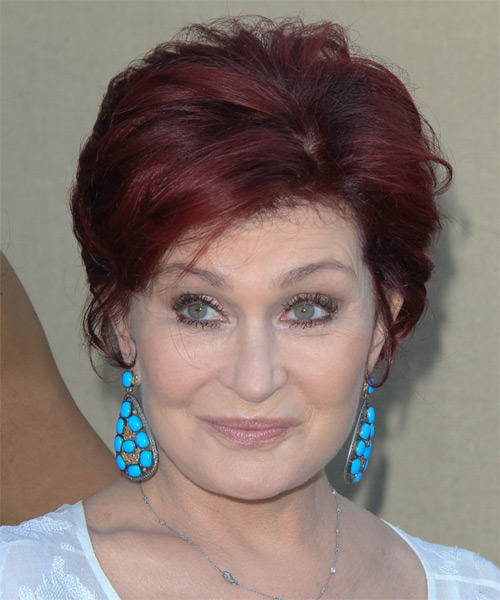 Funky and Punky
Sharon Osbourne is no doubt the queen of short, funky hairstyles. She shows us that women of any age can experiment with bold colours and high-volume cuts. This particular hairstyle matches her vibrant personality and trendy fashion sense. The deep wine hair colour looks fabulous with her fair skin and blue eyes, so try this shade out if you have similar colouring and like to go for the rock chick look. This haircut will work well for women with medium to thick hair who also have natural body. To style, all that is needed is some mousse applied to towel-dried hair, a round brush and a blow dryer. Simply take sections of hair and blast the roots with hot, then cool air. Then, maintain volume and sheen by rolling the round brush as you dry the lengths and ends. Create a messy part with your fingers and spray in place with a strong hold hairspray. This hairstyle will work best for any face shape except square and rectangle.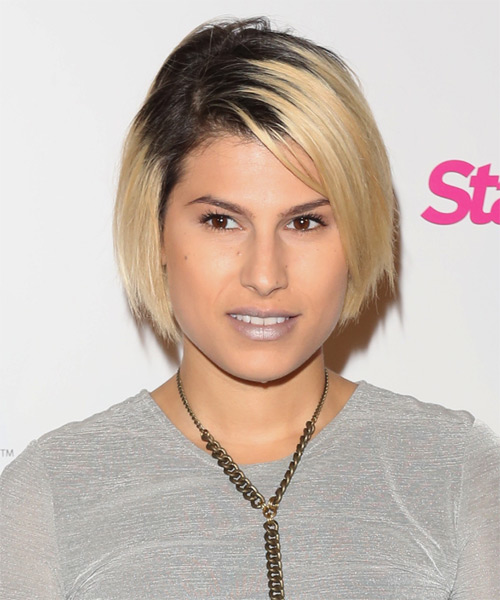 Edgy and Emo
Michelle Ojeda was spotted flaunting a jagged angled bob that would please ladies looking for a younger-looking bob haircut rather than a shorter, tapered 'do. This graduated cut elevates higher at the nape of the neck and the edges have been cut jagged all around to give the ends some texture and movement. Michelle's fringe has been grown out to blend in with her bob but a shorter, side-swept bang would also work well here. For a more conservative look, go for a stunning all-over colour to match your complexion and eye colour. Michelle has chosen an edgier route here, letting a few inches of her natural black hair peek through, while the lengths and ends have been lightened to a peroxide blonde for a retro Eighties feel.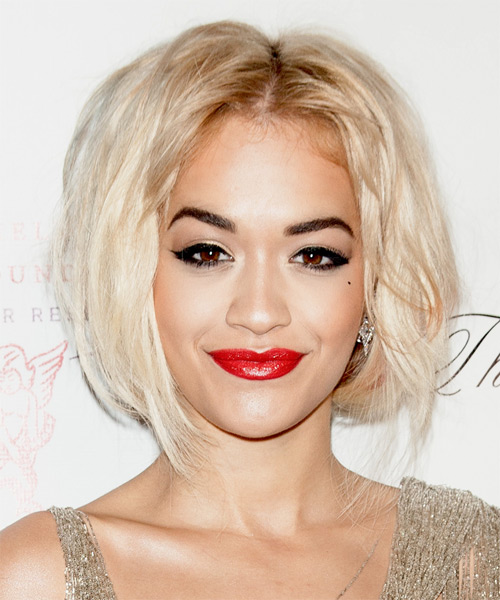 Rita Ora seems to be everywhere lately, and no one really knows why. For those who haven't heard of her, she's a singer from the UK who has been sprouting up in fashion campaigns everywhere lately from DKNY to Chanel. Yes, you read right—Chanel. We can't figure that one out either.

In any case, her platinum bob is quite a cute hairstyle that looks great when it's all dolled up in loose, messy waves as seen here. This hairstyle will suit oval, oblong, square and diamond shaped faces, and the colour will work on any skin tone that has a cool undertone.

To style, add a roost-boosting mousse and part in the centre. Blow-dry using a large round brush to add in volume and body. Then, use a waving iron on low heat to add these barely-there waves. Use the iron randomly throughout the hair, leaving the ends curled under like Rita has done here.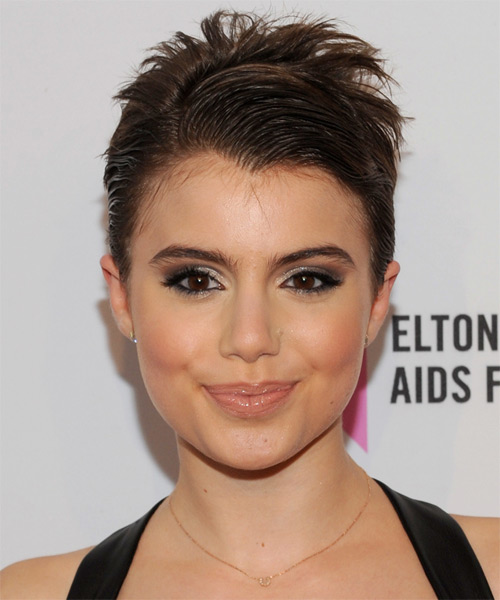 Sami Gayle is looking funky in a messy pixie cut with attitude! This short 'do will suit all face shapes except square, rectangular and oblong. It is best for women who like to put minimal styling time into their hair and who love to have their face as the centre of attention—this is one hairstyle that is not for wallflowers, that's for sure! To style this tapered hairstyle, use a small round brush to dry the hair at the crown straight up for volume. Then, use a comb and styling gel to slick the sides back and the hair to one side, once parted.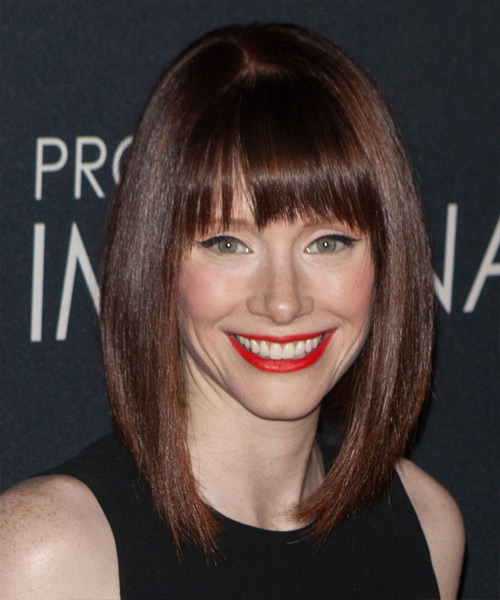 Here, Bryce Dallas Howard shows off a graduated bob with blunt bangs that looks amazing! This haircut looks chic and fashionable thanks to the precision cut and rich monotone colour. This is a fabulous haircut for ladies with oval, oblong and square face shapes that want a low maintenance but high-powered haircut that will get them noticed. To style, blow dry this haircut sleek with a round brush and then use a flat iron to finish it off, if desired.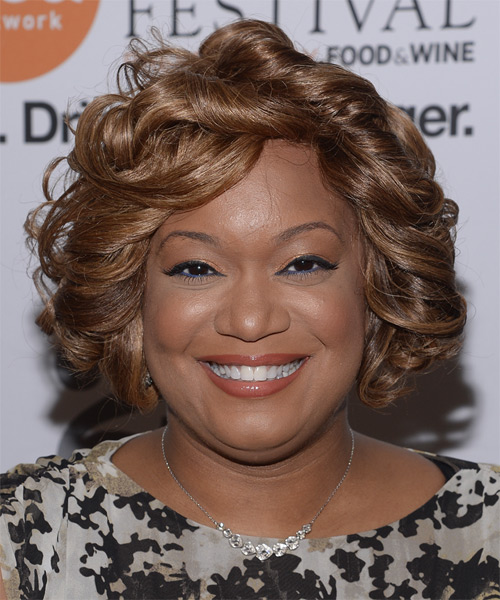 For ladies who want a more mature and sophisticated short hairstyle, check out Sunny Anderson's curly layered hairstyle. This haircut looks great on all face shapes except for round and triangular. To style, rollers or a curling iron is needed to curl sections of the hair away from the face, followed by a strong hairspray to keep it all in place. Sunny's hairstyle also shows off her golden brown highlights beautifully and makes her complexion glow.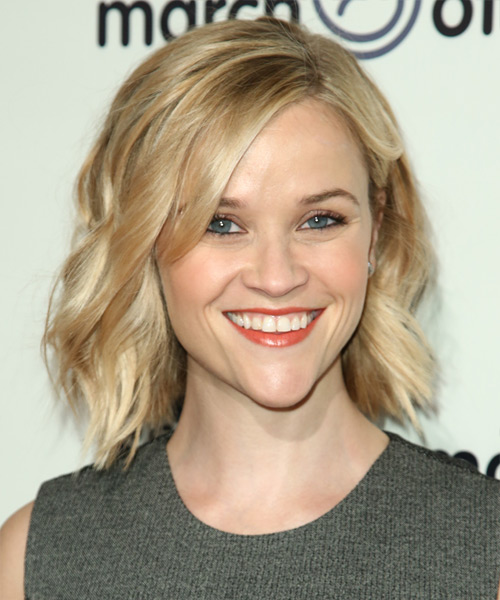 Reese Witherspoon is known as one of "America's Sweethearts" for her down to earth personality and overall sugary sweet image. She has been on the big screen for years now and always manages to look great both on and off the red carpet, not to mention the fact that she doesn't age... ever! Reese looks just as youthful today as she did ten years ago, and while most women in Hollywood resort to plastic surgery, it seems that Reese hasn't been tempted to go under the knife just yet. (Or, if she has, she's managed to get a very natural-looking result!)

If you're a fan of Reese, you've probably noticed that she has been going for more sophisticated short hairstyles as of late, compared to the longer 'dos that she has been sporting in the past. These hairstyles not only give her a more professional image, but they also suit her heart-shaped face beautifully.
Here, we see Reese in a cute shoulder-length bob that has many layers cut in throughout the hairstyle to give her volume and body. Reese has a fine to medium hair texture that is naturally straight, which means that her hair can become flat if she doesn't have enough layers in her hairstyle. If you have the same hair texture then you may want to consider this no-nonsense hairstyle that looks fabulous worn wavy or straight.

Reese has a heart-shaped face with a prominent chin, so her soft waves are the perfect compliment to her features. The deep side part and side-swept fringe also work well to balance out her facial features overall. This hairstyle will work well on women who have heart, oval, oblong, square and diamond face shapes and who have a fine to medium hair thickness.

To create this hairstyle, you would first need to add some styling products to your towel-dried hair; a good roost-boosting mousse should do the trick. Then, blow-dry your hair straight and smooth. Finally, use a curling wand or flat iron on the lowest heat setting and twist sections of your hair to create these soft waves throughout. To hold, use some wax throughout to define the waves and then hairspray to keep it all in place.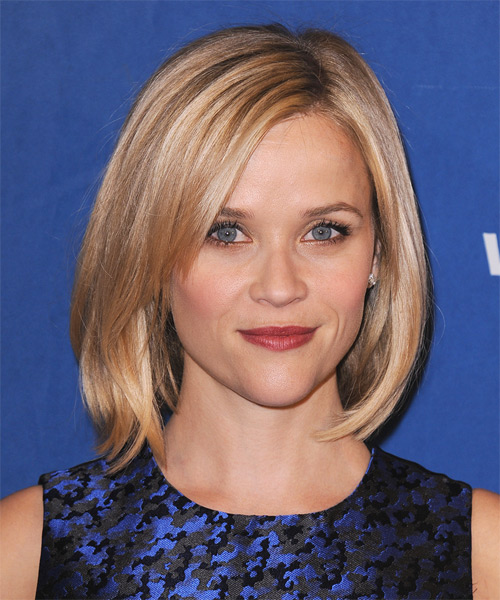 Reese here has chosen a slightly shorter haircut that is worn straight and sleek. She has kept her long side swept fringe, which highlights her cheekbones nicely, and maintained a few layers throughout the ends.

To create this hairstyle, use a good roost-booster and mousse on your towel-dried hair to ensure you get maximum volume. Then, use a large round brush to blow-dry the hair sleek, concentrating on adding volume at the roots and then creating a rounded shape throughout the lengths and ends. If your hair tends to go limp or flat, add some backcombing at the crown to give you an added lift. Finally, use a strong hairspray to keep this hairstyle in check.

Reese is known as one of the smartest women in Hollywood, and her new hairstyle gives her a sophisticated and professional image to match. If you are searching for a simple hairstyle that is easy to do but has a classic style, one of Reese's layered bobs may be just the thing for you.
We have just seen nine very different short hairstyles—which one are you most likely to get next time you are in the salon?