It's always amazing just how much changing up the length and/or texture of your hair can affect your look. In particular, going from straight to curly or vice-versa is always a game changer when it comes to your personal style. To illustrate this point, we're going to take a look at one of the "Shahs of Sunset" herself, Golnesa Gharachedaghi. This style chameleon changes her look up often and goes between straight and curly hair with ease, with each hairstyle giving her a certain persona. Let's take a closer look at Golnesa and which hairstyle suits her the best.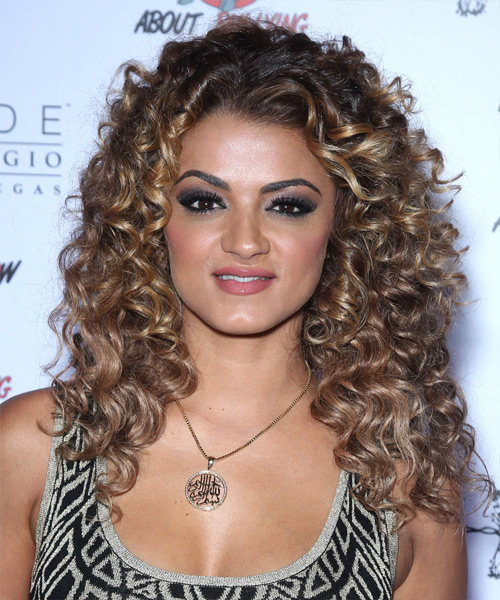 Golnesa has an oval face shape overall, but her chin and jawline are angular which also gives her some squareness. Like most women, she has a hybrid of two faces shapes to contend with and should choose styles that flatter both of these face shapes the best. Luckily, oval face shapes can wear any hairstyle with ease, but squares have a few more issues to work with.
Firstly, angular or square face shapes look fabulous in waves or curls just like Golnesa's. This helps to soften the face up and provide body and bounce at the same time. Golnesa also got it right with this hairstyle by wearing the hair off the face, which is always a great look for oval and square face shapes.
The colour is another gorgeous feature of this hairstyle. Golnesa's espresso brown base has been lightened to a dark caramel blonde, which looks amazing with her skin tone. This sun-kissed shade is a good option for women with caramel complexions like Golnesa, especially if they have dark eyes. Overall, this curly sun-kissed hairstyle is working for Ms. Gharachedaghi.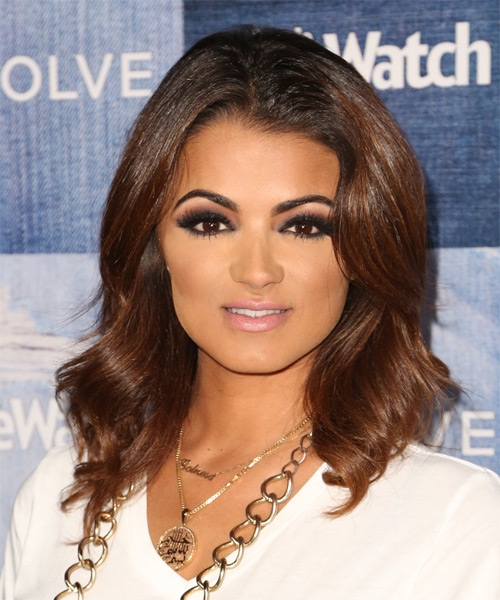 On the flipside, here is Golnesa in a gorgeous sleek and straight hairstyle that has sent her sophistication level through the roof! This softly waved hairstyle suits her face shape perfectly, camouflaging her angular jawline nicely and bringing all the attention to her eyes.
This is a simple layered hairstyle that will require Golnesa to straighten and wave her naturally curly hair, but the results are well worth it. The sleekness of this hairstyle creates a classy and demure look compared to the wilder, more bohemian look of her curly 'do.
When it comes to her colour, Golnesa's warm reddish-brown is a definite improvement on the lighter blonde shade she was wearing above. This rich tone compliments her complexion and eye colour while giving her a warm glow—something that wasn't apparent with the blonder shade in the previous photo.
Overall, Golnesa suits both hairstyles nicely—but which one is more flattering for this Persian-American princess? While she does look cool in her wild child curls, the sleek and sophisticated look is our favourite, including that gorgeous reddish-brown hair colour that really brings out her eyes. Overall the straight and sleek looks works with her features and complexion better while giving her a more demure appearance.
Which of these looks is your favourite for Golnesa—curly and caramel or sleek and straight?