If you want to create a fresh option for your short locks then you don't have to just rely on some new hair styling or parting techniques. A new hair color can totally revitalize your short strands - as this before and after makeover shows...
Brunette to Blonde Makeover for Short Hair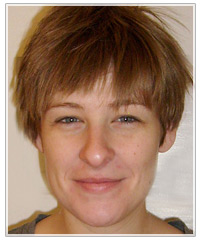 With a sassy short length that only required a slick hair gel to create a great looking style, our model had her styling routine sorted. But as you can see from the before photo (right), her locks looked a little drab.
The mousy brown hair color doesn't really call for attention or give this short 'do the right kind of spice, but a simple change in hair color from brunette to blonde quickly takes this short hairstyle to another level!
As you can see, this beautiful butter blonde hair color really ups-the-ante of this short haircut and also does a great job of bringing our model's blue eyes and peaches and cream complexion to life!
To see how you'd look with this salon hairstyle, click on the above images to try the hairstyle with your own photo in our Virtual Hairstyler. Or to find your own new hairdo or hair color for a makeover, take a look at our range of hairstyles today!