The Sedu Revolution Styling Iron definitely stands out from its competition. Its great features include a light weight design for easy control, scratch resistant plates for even heating and an adjustable temperature to make styling all hair types easy and non damaging to the hair. Anti slip edges also help with easy styling and won't result in any snag or kink problems when trying to achieve balance when creating waves and curls.
Sedu have also brought out some heat protection sprays, which are a must when regularly styling your hair with a styling iron. All of the sprays have a heat activated leave in serum to help tame unruly hair.
The Sedu Revolution Styling Iron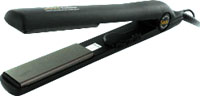 I have been hairdressing for nearly 8 years and working in a salon that long can get you very used to one styling tool. So when the chance to do the Sedu Iron review came up, I was very excited to see what else was out there on the market.
I decided that the best person to try it on would be myself as I can be very fussy about my own hair. To start, I shampooed and conditioned my hair and then allowed it to dry naturally before straightening my hair. I found the Sedu Iron to be light and easy to use, and that it ran through my hair very smoothly, which meant that it took very little time to straighten each section of my hair. I think that the combination of the adjustable heating and the Nano Tourmaline Technology helped to give my hair a very soft feel once it was completely straightened, which is unusual because my hair often feels very dry after I have styled it with a styling iron.
Two days after I had straightened my hair with the Sedu Iron, it still looked great, although it wasn't as flat at the top and did have a natural amount of body through the roots.
4 1/2 stars.
Sedu Moisturising Heat Protection Boost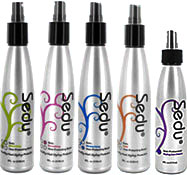 This product is for dry hair which needs extra moisture when styling to help create a softer finish with plenty of shine.
3 stars.
Sedu Smoothing Heat Protection Boost
This is great for styling the hair into a dead straight style and will help to give your hair a frizz free finish.
4 stars.
Sedu Color Heat Protection Boost
Helps to protect hair that has been colored from any fading or damage that may be caused by using a straightening iron.
4 stars.
Sedu Professional Styling Iron Cleaner
Cleaning your iron is very important and should be done following the directions from Sedu. Using the Sedu Professional Styling Iron Cleaner will help to extend the life of your iron and also allow you to create fresh styles with your iron everytime.
5 stars.