Rachel McAdams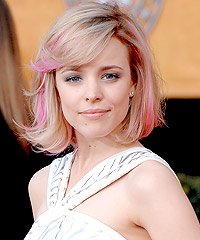 Roy's Opinion
This shoulder length solid design with soft graduated layers throughout is a perfect cut and fit for Rachel's diamond shape face. It adds volume through the sides, where it's needed most, while the side swept bangs draw attention to Rachel's eyes. The all over honey blonde color suits Rachel's complexion, while the pink highlights, dramatic as they are, create interest and grabs lots of attention.
7/10
Sarah's Opinion
I think this is a great hair cut and that it looks really good on Rachel. The below chin level length frames her face beautifully and also helps to show off her defining facial features. Her side part and side falling bangs add feathery texture to the front of her style, giving her hair a soft feature.The pink highlights are a great eye catcher and mix in well with her soft blonde locks.
10/10
Paola's Opinion
I love this look on Rachel! The shoulder level length gives her a lovely soft bob style and the layers cut around the top and sides give her a full, round shape. The bangs are the main feature of this style and are jagged cut and swept off to one side to shape Rachel's facial features perfectly. The daring pink highlights are what I really love about this look.
10/10
Katherine Heigl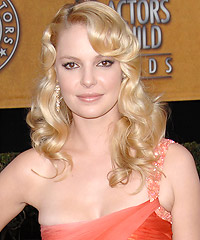 Roy's Opinion
Katherine looks like a million dollars at every event she attends and these soft, natural looking waves are a great style for her. I really have an issue with the bangs, however. Katherine needs to hide that high hairline using a diagonal part that would place more hair on her forehead. The color is okay but needs a hint of copper in it to make it become strawberry blonde. This, I believe, would suit Katherine's complexion much better.
6/10
Sarah's Opinion
Katherine regularly changes her look for each event and this style looks absolutely gorgeous. The soft bangs and large bouncy curls complement her stunning facial features well. What caught my eye with Katherine's style was that the curls and waves are all different thicknesses, giving her entire style lots of texture.
10/10
Paola's Opinion
This is a charming look for Katherine. I love the waves, they really accentuate her lovely features, and the golden blonde tones give Katherine's complexion a boost. Katherine has a fine hair texture and the soft blended layers give her the right amount of body to all the right areas. I also love the bangs which have been blended in with her waves.
10/10
Tyra Banks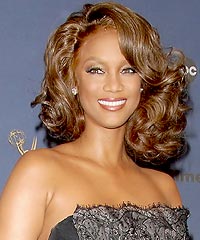 Roy's Opinion
Well, with all the fuss right now about her appearance, and weight gain in particular, Tyra simply looks stunning here. I do prefer curls or waves on her as they make Tyra's facial features much softer. The warm brown color is also a winner and looks very natural and complements her hazel eye color. Overall, this look is sexy and stunning.
9/10
Sarah's Opinion
I think that this style is a little off balance for Tyra. The hair is a quite flat on the top but very full through the bangs which follows down to the shoulders length with lots of volume and texture. The other side is fairly even, running to around chin level length. This hairstyle could look a lot better if it wasn't for the uneven texture and lengths.
5/10
Paola's Opinion
This is a lovely style on Tyra. I love the full waves through the top and sides, and I especially love the full flowing bangs, they give her a lovely shape to her face. The light golden brown tones really shine against Tyra's lovely complexion and give her a soft look all over.
7/10
Ryan Cabrera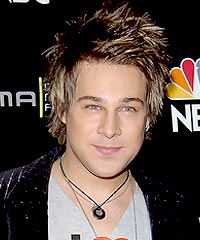 Roy's Opinion
This chopped razor cut is a great look but not the best shape to suit Ryan's diamond face shape. What he needs is a hairstyle that adds some width through the bottom and sides while some bangs would also help to take away the square shape his hairline produces. He doesn't really need any more height. The color is good with blonde tips that add further texture and movement.
4/10
Sarah's Opinion
This style looks great on the top and has lots of texture and length to give the hair a great amount attitude. The sides and back seem to be a little too short for the top and don't seem to have as much texture cut into them. This gives the hairstyle a bit of an uneven look and I think more length and texture is needed to make this hairstyle suit Ryan's face shape.
4/10
Paola's Opinion
This cool textured 'do is all the craze. This style is razored right through to create a messy, creative look and the length has been kept longer around the ears, which I think could have been messed up as well to create an even look. The top has been kept longer and jagged which adds a little too much length to Ryan's already long face shape.
6/10