When you've got your hair sorted into a great length and cut, it's only natural to want to make sure it's shown off to its best advantage, and that's where these makeup tips come in handy!
Medium Length Hair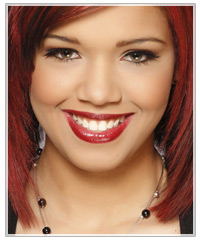 With most mid-length hairstyles finishing around the bottom of your face, it's the perfect opportunity to highlight your lips. Making your lips standout will in turn draw attention to the ends of your medium length hair.

Create a soft, natural base with an even application of foundation and then apply a light sweep of champagne or light brown colored eye shadow across your entire lid. Finish your eyes with just one coat of mascara to keep your eyes nice and neutral. You'll be going for a bold lip, so your eyes and the rest of your makeup should be kept flattering yet minimal.

For your lips, choose a bold color that goes well with your skin tone. Red lipsticks are classics for a reason and come in such a large variety that you should have no trouble finding the right red lipstick for you. If red is too bold then try a tamer color, just ensure it makes your lips stand out.

To finish you can add a light dusting of blush to your cheekbones if you wish, but only if your lips haven't already added enough warmth to your face. Too much color on your lips, cheeks and eyes will lead to the dreaded 'clown' look so remember to keep everything balanced.
To see how you'd look with the salon hairstyle pictured in this article, click on the above image to try the virtual hairstyle with your own photo!