No makeup look is complete without an envy-inducing complexion brought to life with the right foundation, so to ensure your makeup look gets the right start, and has a strong finish, take a look at these foundation tips.
Choosing the Right Foundation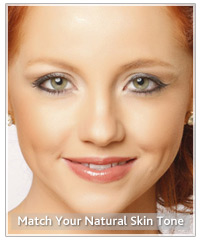 To get the right foundation color for you, you'll need to determine if your skin tone has either a pink (cool) or yellow (warm) undertone and then choose a foundation color to match. You should be aiming for a color that blends with your natural tone and avoiding anything that will drastically lighten or darken the color of your skin.

Often when choosing a shade you'll find that you're in between a light and dark shade. If that happens, go for the darker shade as looking too light will wash you out.

If you find that you just can't get the right foundation shade then consider buying a dark shade and a light shade in the closest match you can get and then blending them together to make up the right shade for you. Just remember to stick to the same brand and type of foundation to get the right texture and consistency.

For a versatile day product, consider a wet-dry foundation powder. You can sponge it on dry for a sheer, natural look, apply damp for more coverage or use it as a dry powder for a light finish.

For an evening look, give cream foundation a try as it will look best under low-level lighting.

If a light weight, sheer finish foundation is the look for you then try a tinted moisturizer instead of foundation, or mix your foundation with your moisturizer to create your own.
Foundation Application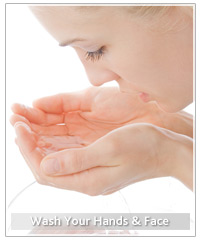 Wash your hands before applying your foundation to avoid spreading dirt, germs and grease from your fingers onto your face.

Before applying your foundation your skin should be prepped. Make sure you've cleansed your face and moisturized your skin to smooth and even out your skin for a better application and finished result.

Remember to let your moisturizer sink in by waiting at least 10 minutes before adding your foundation or your foundation will be absorbed into your skin with your moisturizer and won't last as long.

If you want long lasting foundation then consider applying a foundation or makeup primer to your face first. Most makeup brands nowadays carry primers as part of their standard range.

To get even coverage, apply your foundation with a damp sponge or foundation brush. Your fingers are also great foundation applying tools.

Avoid an overdone look by applying your foundation only where you actually need it. Contrary to popular belief, foundation does not have to be applied to every inch of your skin.

If you've gone a little overboard with your foundation then soak up the excess by pressing a damp sponge lightly into your skin, particularly around your mouth, nose and hairline.

Your foundation should be the part of your makeup routine that takes the longest, but the extra time will be worth the effort. Ensure your foundation is applied properly and then blended, blended and blended some more, especially around your jawline, hairline and neck area until there are no telltale signs of where your foundation starts or ends.
Making the Most of Your Foundation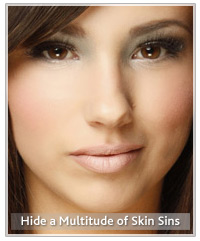 For a natural finish to your foundation and other makeup, gently pat a tissue over your face after you've applied all of your makeup to help blend your makeup together and promote a soft, natural look.

You can use your foundation to hide a multitude of skin sins. Most notably, spots, dark under eye circles (also with the help of concealer), freckles and an uneven skin tone.

You can also use your foundation to flatter or minimize your facial features. For example, the appearance of a double chin can be banished by applying a slightly darker shade of foundation to the one that is on your face under your chin.

Our final foundation tip is to remember to use a foundation that contains SPF. This will help to keep your skin protected from sun damage and will also help prevent wrinkles.