Nothing brings a look together like flawless makeup and a beautiful looking hair color. To see how you can create a great look no matter the occasion, combine these makeup color suggestions with your red hair.
Foundation

Natural redheads should use beige tinted foundation for a natural look that isn't too yellow against your complexion. For bottle redheads, the right foundation color for your skin tone should be found. Red hair color can highlight red tones in cool or pink complexions, but if you stick to the foundation that matches your skin tone, those tones can be neutralized.
Eye Shadow

A classic match for red hair is a green eye shadow. There's just something about the combination of a green shade matched with a red hair color that looks fantastic! Other flattering eye shadow colors for red hair are warm shades in peach, gold, grey, champagne and earth tone browns. For evening looks, try your eye shadow in shimmer or pearly formulations for a touch of elegance.

Makeup tip: you can even extend your flattering shades to your eyeliner. Opt for green or brown colored eyeliner to ensure your eyes stand out and to enhance your red locks.
Blush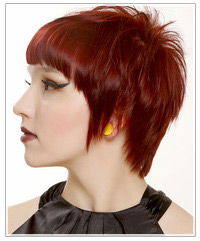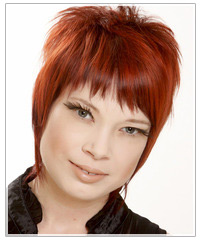 A hint of blush for a natural, healthy glow is all you need to enhance your look when you're sporting a red hair color. Opt for light touches in pink or peach tones.
Lipstick

If you want a subtle lipstick look then natural shades in nude or flesh-toned pinks are ideal when worn alongside red hair. For a lipstick look that brings attention to your lips or will compete with your fiery locks, bright pinks and bold colors such as purple are nice choices. As for red lipsticks, they are definitely an option that redheads can try. Depending on your skin tone, choose blue based reds, brown based reds and gold based reds.
To see how you'd look with any of the red hairstyles pictured in this article, click on the above images to try the virtual hairstyle with your own photo!