Usually when it comes to facials, most of us don't have the time or the money to splurge on this totally relaxing indulgence. But while nothing beats spending a few soothing hours in a day spa being looked after by a professional beautician, it is actually possible to do a little DIY pampering of your own and not miss out on the great benefits a facial will give to your skin.
All you need to do is just follow these 6 simple steps and your skin will be glowing in no time!
What You'll Need:
A shower cap to protect your hair.
A bathroom sink (or large bowl), plug and towel.
A cleanser, toner, face mask and moisturizer of your choice that matches your skin type.
Get prepared by covering your hair with your shower cap and then filling your sink with some warm water.
Step 1: Cleanse
Gently massage your cleanser into your face and neck (taking care not to drag or roughly handle your skin) and then, depending on the type of cleanser you are using, remove your cleanser by rinsing with water or wiping it off with cotton wipes.
Beauty Tip: There are lots of different cleansers and what works best for you will depend on your skin type. For more info, see our Skin Type Consultation and The Right Skin Care Products for Your Skin Type beauty articles.
Step 2: Exfoliate
Use circular motions to gently slough off dead skin cells using a mild facial scrub (fine ground oatmeal mixed into a paste with water or sugar mixed with a soapy lather are great natural options) and then rinse. This will leave your skin soft and tender and prepared for the next steps.
Beauty Tip: If you cleanse your face correctly by using massage, a complexion brush or face flannel then an exfoliator may not even be necessary. Use the feel and look of your own skin as a guide to work out what's best for you.
Step 3: Steam
Refill your sink with hot water and then lean over the sink with your towel draped over your head and use it to trap the steam around your face. To get any real benefits you'll need to stay like this for at least 20 minutes so add some nice essential oils to make the experience more relaxing and fun.
Beauty Tip: The hot temperature of the steam can irritate broken veins and dry skin. If this is your skin type then give this step a miss.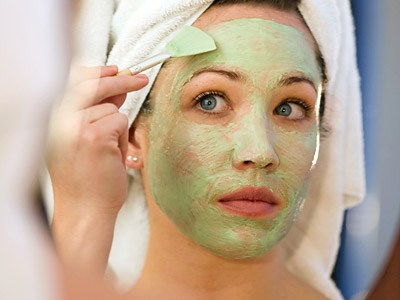 Step 4: Apply a Facial Mask
After steaming, splash your face with cool water, give it a dry and then apply a mask to your face and neck for 5 to 20 minutes (the time will depend on the type of mask you use so check the instructions on the packet). Masks will help to tighten the pores of greasy skin or nourish dry skin so make sure to choose one that is compatible with your skin type.
Beauty Tip: A facial mask should never be applied to your eye area as the skin is too delicate. If you'd like to give some TLC to this area then try applying some eye cream which will nourish the skin around your eyes while you wait for your mask to do its magic to the rest of your skin.
Step 5: Tone
After kicking back and letting your mask set you should be feeling pretty relaxed. Now is the time to remove your mask and give your face another splash with water or some toner applied with a cotton pad.
Step 6: Moisturize
The final step is to inject some moisture into your newly refreshed skin. Moisturizers are essential for all skin types and will replenish any moisture that your skin has lost and will prevent any further loss. If you want to go all out with your pampering and really give yourself the day spa treatment then you can apply your moisturizer using the massage techniques outlined in our Skin Care Tips: How to Give Yourself a Facial Massage beauty blog!
Obviously, there are few ways to moisturize your skin which gives you an opportunity to choose the best fit for your skin. You can choose between lotions and soaps. When choosing your favorite, be sure that it doesn't have chemical consistency as it can irritate your skin. Instead, use natural-based lotions or soaps which can prevent your skin from rashes. By using lotions with avocado and coconut oils you can keep your skin hydrated or if you prefer soaps you can choose pure goat milk soaps and keep your skin not only moisturized but also nourished.
Once your skin has soaked in your moisturizer then your facial is complete!
Giving yourself a facial every month or so is not only a great addition to your beauty regime, it also gives your skin some extra TLC. Skin will behave how it's treated; if you treat it badly then it will show. Keep that in mind and use it as motivation to care for your skin, and the small amount of time you'll need to dedicate to giving yourself a facial will be worth it.
Happy pampering!