After years of the Boho Chic look and long, loose Grecian Goddess waves, are structured hairstyles making a comeback? We have been seeing many more styles that are curled, coiffed and sprayed into place - think news anchor lady hair. These styles are meant to look - and stay - styled to perfection. For many women, this will be good news as they love to get dolled up and flaunt a pristine hairstyle that looks fresh from the salon. For those who love the loose, air-dried and natural look, this is one kind of 'do that you will want to avoid! If you belong to the former group you are going to want to have a look at some of the styles that we have below.
It is important that you keep in mind that these hairstyles take a while to get to the stage of perfection. You are going to need to have some patience when choosing to do a structured hairstyle. These hairstyles are ideal for special occasions and a night out on the town. You are going to need to have about an hour or so to gets these hairstyles ready. If you want to have more of a 'care-free' kind of hairstyle, then these are not the right style for you. If you want to feel like a movie star or go back to the good old days, then we strongly suggest having a go at a structured hairstyle. You are going to feel like a princess!
What is a structured 'Do?
A structured hairstyle is a 'do that has been carefully formulated and planned out so that it can stay in perfect shape throughout the day. You might need to use some hair product to ensure that your hair does not have flyaway pieces. You can use pins to lock that hairstyle into place and you can use other hair tools to keep your hairstyle looking flawless no matter what you are doing.
A structured hairstyle often has layers to help give the style some volume, a path to create some definition and sometimes even drama and a few different hair textures to keep the hairstyle looking fresh and interesting throughout the day. This means that you can have a straight fringe that has been side swept with curls on the side of your face and finished off with a side path to create definition.
Do structured 'Dos suit everyone?
This is a very good question and the simple answer is yes they do suit everyone. You need to keep in mind however that some hairstyles suit certain face shapes better than others. This means that you are going to need to make sure that the style you wish to choose suits your face shape. The basic rule is that if you have a round face, you want to find a style that is going to give the illusion that your face is longer by having long hair around your cheekbones and neck area.

If you have a square, diamond or triangle face shape, you will want to find a hairstyle that is going to soften your edges of your face and that is subtle that covers the harsher points on your face.
Structured hairstyles can suit long, medium and short hair. They work for both genders and some styles can even suit people who wear glasses. Please keep in mind that glasses only suit styles that have a more open face than a closed off one. Your glasses might get in the way of your fringe or side-swept bangs and that can cause you to touch your hair throughout the day which is going to cause your structured 'do to lose shape.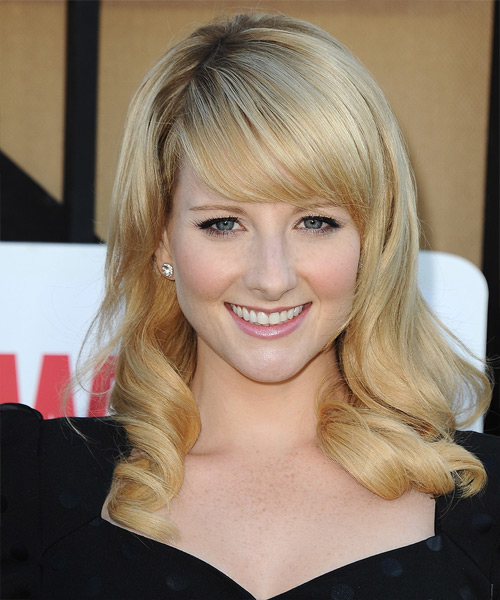 Melissa Rauch looks picture perfect in blonde curls and perfectly side-swept bangs. This pristine hairstyle can be achieved with some simple styling tools and hair products. First, start off by blow-drying your hair silky smooth. Remember to add some root booster to your hair when it is towel-dried before you start styling though. If you have a fringe like Melissa, use a small (1 inch diameter) round brush to smooth your hair down and to the side. Then finish drying the rest of your hair with a larger barrelled brush (2-3 inch diameter). Finally, it's time to add in some curls. Get these ringlets by using hot rollers and rolling large panels of hair, starting from the front and working your way around to the back. Once they have set, unroll them and immediately spray them to hold. This is a real "beauty queen" look that will suit women who love sweet and romantic hairstyles.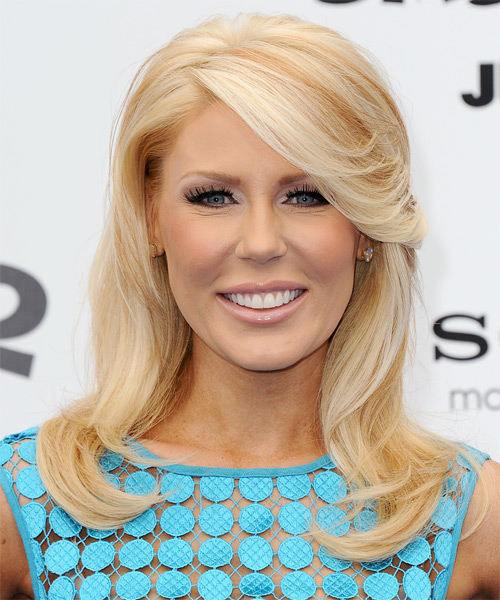 Gretchen Rossi is another celebrity who is flaunting the perfectly-coiffed look. This is a more mature and sophisticated style, which works great for professional women who want a polished look. To get this style, add some mousse to your towel dried hair and blow-dry with a round brush, adding lots of volume to the roots, especially in the crown area. Continue to dry the lengths and then add a large curl in the ends by spinning the round brush rapidly while the hot air is focused on the section. If you have a fringe and/or shorter layers around the face, continue to use the round brush to manoeuvre the hair off the face and add curl to the ends. To complete this style, use a fine-toothed comb to backcomb the roots at the crown and then smooth the hair on top. Finally, spray heavily to keep this style in place.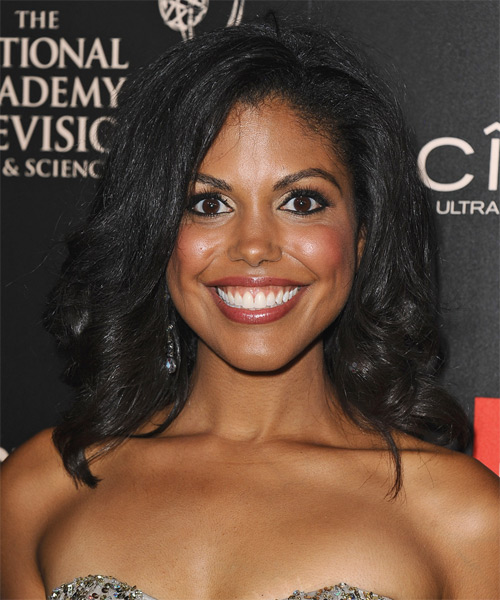 Karla Mosley is also rocking a structured hairstyle on the red carpet here. This is a glamorous evening look that is perfect for women who love easy-to-do hairstyles. Karla has started by blow-drying her hair straight and then using a curling wand or tongs to create large ringlets in sections around the head. An off-centre part looks great on Karla's face shape but feel free to use a centre part if that suits you better. After your curls have set, do not separate them at all. Keep them looking pristine by spraying them to retain the shape. This hairstyle is perfect for a glam night out!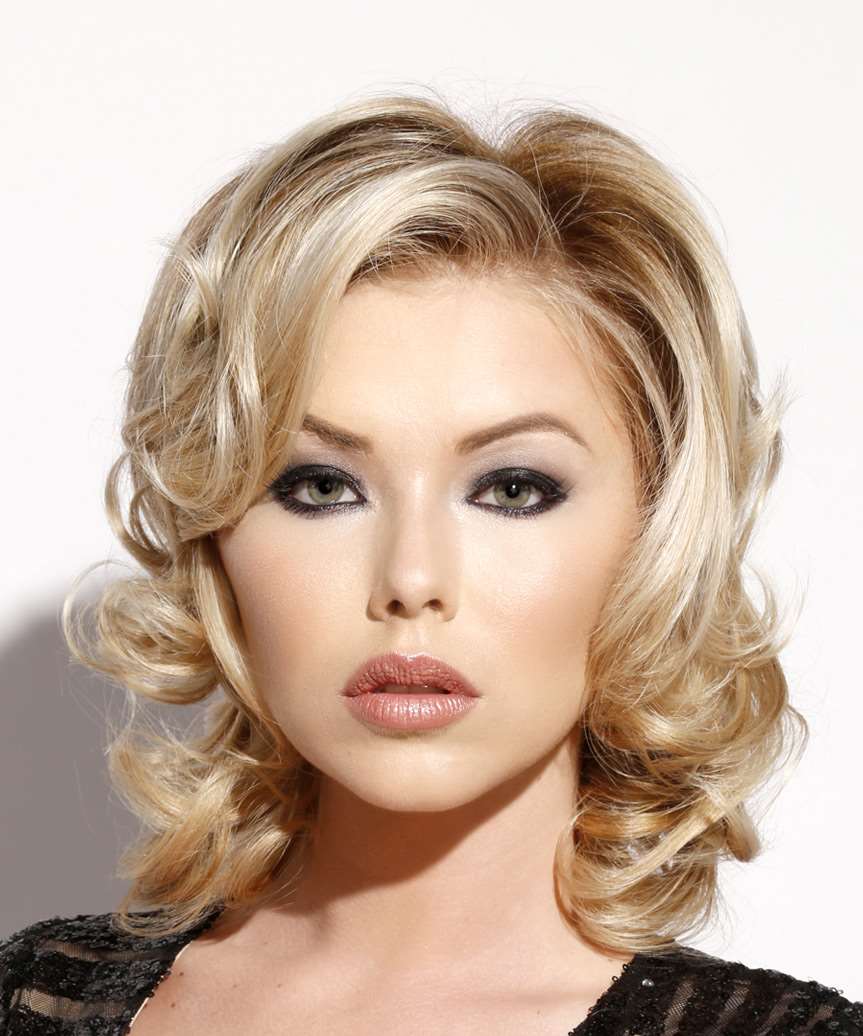 As you can see our model is rocking this structured hairstyle! She has a side path which gives this look dimension. The curls help to shape her face as well as contour her face to help create the perfect oval face shape. The highlights give this look life and keeps it looking fresh. The curls look different every time she moves which is great. You are going to have to use a curling iron to curl the mid to the ends of your hair. Use a lot of hairspray to lock in the curls and ensure that you do not have any fly away pieces of hair throughout the day. You are also going to want to lift your roots by teasing them a little bit to create volume and height for this look. This is one look that you are going to want to try out at least once!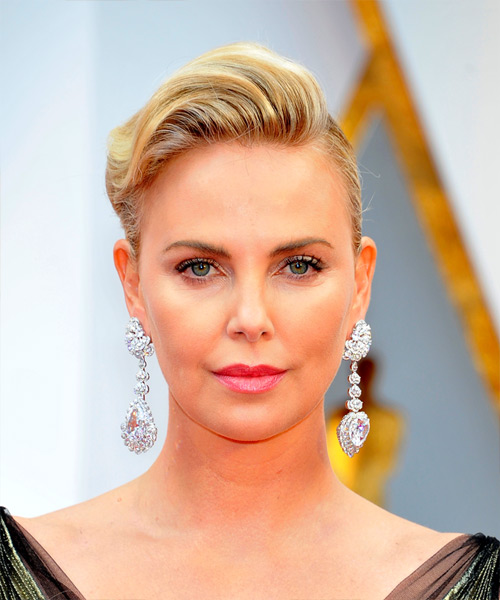 Charlize Theron looks like solid gold with this look. This structured hairstyle does not have a piece of hair that is out of place! The highlights in her hair also give this look some life, which look gorgeous. Her hair is out of her face which opens up her face nicely. This means that glasses will suit this hairstyle, and it also gives you a chance to show off your gorgeous pieces of jewellery. As you can see the top of her hairstyle has a bit of a wave to it which creates volume to this look. You are going to need to use a lot of product to lock in the waves as well as keep the structure of this hairstyle perfect. You can use a 1mm roller brush to create the gentle waves and use hairspray or gel to keep everything in place. This is an elegant hairstyle that is going to suit your night out on the town or that special occasion that you might have.
How to maintain a structured 'do
Keep a few bobby pins with you at all times to pin up some of those lose ends throughout the day.
You can keep hairspray with you to spray your hair when needed.
You can use a pre-styling product to help get your style in shape and stay in place.
Make sure that you do each step of your hairstyle with precision. You want to make sure that every piece is in the right place, every curl is tight and every quiff is in the right place.
Ensure that your path is in the right place to ensure that your look is perfect.
When teasing your hair, you want to make sure that you do it piece by piece. You do not want to tease too much because then it is going to look like a mess.
If you are going to do the highlights, you are going to want to touch up your highlights once every 6 weeks or so to keep your roots looking fresh and vibrant.
Cut your hair once every 4 weeks or so to ensure that the ends of your hair stay healthy and split-end free.



Things to keep in mind before choosing to get a structured hairstyle
If you are the type of person who suffers from headaches, these hairstyles might not be the best idea for you as they are tight and pulled into place. This can cause you to get a headache if you so suffer already.
If you suffer from Asthma, these hairstyles might not be the best idea for you as the amount of hairspray that goes into these hairstyles to keep them locked into place can cause your chest to get a bit irritated.
You need to have patience when doing these hairstyles as they do take a bit more time than just curling or straightening your hair.
How to remove your structured 'do
Removing your structured hairstyle can take some time. You are going to want to take out any bobby pins or hair ties that you might have. Once you have removed those, you are then going to want to gently brush your hair. When using hairspray or gel, you might want to use a product that can brush out. If it cannot brush out, then wash your hair and you are good to go. You can now start from the beginning and try another hairstyle.
If you want to keep your hairstyle for longer than a day, you can do it by using a lot more product in your hair so that it can be locked into place for as much time as possible. Use more bobby pins and hair ties to keep your hair in place for as long as you need. In order to keep the hairstyle in place for longer, you are going to want to style your hair when your hair is not very clean. You should wash your hair 2 or 3 days before you wish to style it. That way your hair will hold its shape for longer.
Structured hairstyles used to be a thing of the past. It is slowly but surely making its way back into fashion and we love it! More and more people are moving away from the casual hairstyles and wanting something more formal and in place. Structured hairstyles are not for everyone. You need to put more effort into the hairstyle and it does take more time to style but in the end, you can take a step back in time and add your own new twist to the structured hairstyle. Who says that something old can't be revamped to keep the soul of the old style but the feel of a new hairstyle?