Day-to-day, having short hair is fabulous. It's chic, it's trendy, and it doesn't take a long time to style. But when it comes to a big night out, your options can seem somewhat limited. That's where we come in! Here is another bang-on-trend hairstyle that women with short hair can rock on an evening out.
How to Get the Look: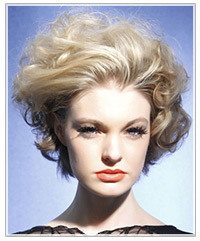 1. If your hair is straight or wavy, use rollers to add large curls all over. If you have naturally curly hair, just add some curl enhancer to get the most body and volume possible.
2. The next step is to create all of the volume that will give you the windblown look. Backcomb small sections of hair on the front, crown and sides of your head. The back will need slightly less backcombing so you can use bigger sections. Make sure to leave some curl in the lengths and ends of the hair. Spray each section to lock in the volume as you go.
3. The final step is to sculpt your hair, which by now should literally be standing on end! Our model has created a wave in the front section that sweeps over to the back of the head. Use a large comb to gently mould the hair in place, working it towards the back of the head. Finish it off with a super-strength hairspray.
Have you tried this style? Let us know how you rocked it—what did you wear, and how did you do your makeup?