If you're planning a big style change with either your hair color, your hair cut, or both, the best thing to do is be prepared. That way you'll increase the chances that you'll end up with the style you want, a style that'll suit you, and a look you'll love.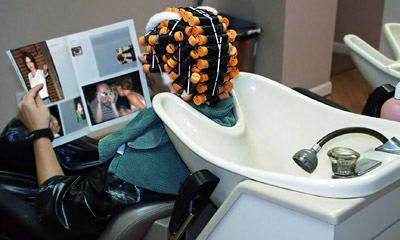 Take a Picture
It could be a picture of a celebrity, a picture of a model from a magazine, or for the best demonstration, a picture of yourself with the style you want (upload your photo to our Virtual Hairstyler today!).
Go with Clean, Natural State Hair
If you have naturally curly hair but usually straighten it, then wear your curls. That way your hairdresser will know how to cut your hair to work with your curls or waves- even if you prefer to style your hair straight all the time. Clean hair is also a must so they can see the texture and actual color of your hair.
Give a Hair History
If you wear your hair up all the time, wear glasses, go to the gym, straighten it every day, or only wash it once a week, then let your hairdresser know so that they can advise you on a style that'll fit in with your lifestyle.
Listen to Suggestions
You don't have to take the advice if you don't want to but if your hairdresser thinks a hairstyle might suit you better or knows of a great new hair color that's along the lines of what you're after then have a listen to what they have to say.
Dress Right
If you want to visit the salon dressed to the nines or in the tracksuit you only wear when you're spending the day around the house then it's up to you, but if you're having things done to your hair it'll be easier for you and your hairdresser if you're not wearing anything that'll cover up your neck, like a turtle neck jumper, a scarf or anything else that'll get in the way of your hair. The same rule goes for accessories like big dangly earrings.
Add Makeup to Your Makeover
If you're getting a new hair color and you regularly wear makeup, or you're getting your color for a certain event that will require makeup, either do your face or take the makeup colors along so your hairdresser can help you decide on a hair color that'll flatter and suit.
Whether it's one of your regular hair appointments, your first hair appointment in years, or your first hair appointment ever, being prepared and following these tips will ensure you have a helpful hair appointment every time!