If you're rocking an edgy cut like our model here, chances are you love to experiment with your makeup and fashion sense and enjoy flaunting bold, vibrant looks. And well you should—after all, short edgy haircuts like pixies and faux-hicans look best when paired with a defined makeup look, whether it be vintage glamour, pixie-like dewy makeup or something more along the lines of what our model is wearing here—high-fashion makeup.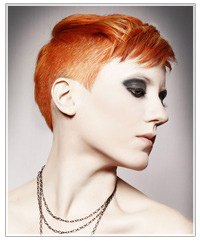 This makeup style is guaranteed to turn heads and add that bit of runway glamour to your short 'do. Plus, it can be done in minutes.
Simply start with a flawless base (as seen here with our model's alabaster complexion). Then, cover the eyelid with a grey or silver eye shadow as a base. Layer black eye shadow in the crease of the eye, extending it out past the outer corner of the eye and then coming back in again. Blend the black shadow with the grey/silver shade on the lid so the entire eyelid becomes blended. Use a thin applicator brush to apply black on the bottom lash line as well. That's it! No lipstick required as that would be overkill—this makeup style lets your hairstyle and eyes do all of the talking!