This model means business! If you love this tough-girl look, complete with crazy hair and bold eye makeup, then you'll be glad to know you can get the same look at home in no time. Here's how: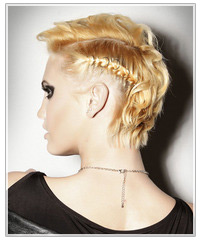 The Hair: Our model has a layered haircut that is tapered at the nape of the neck and the sides. It has a wavy texture which helps her get that windblown "I just rolled up on a Harley" look—if you have straight hair then try using a waving iron to get the same effect. Then, create a side hair part and on the side with less hair, make a tight French braid that goes toward the back of the head, pinning it to secure it. Leave the other side as is, "crunching" it up with some product to give it lift on the top of the head.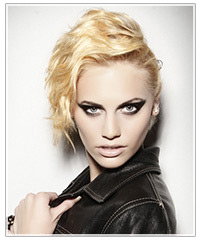 The Makeup: Get out the black eye shadow and create ultra long wings that extend past your eyebrows. Blend it on over the entire eyelid and then bring it down to the bottom lash line. Finish the look off by applying a chalky nude lipstick (one that has an ivory, not an orange, base). Throw on your leather coat and you're ready to rock!