While it's true that those with mid-length hair may not be able to flaunt some styles that longer-tressed ladies can, there are ways to change up your style and get your hair off your face once in a while! Here, Torrey Devitto is wearing a simple style that will work for jaw-length or shorter hair. And the best part is- it only takes a few minutes.
Here's how to get this pinned back 'do: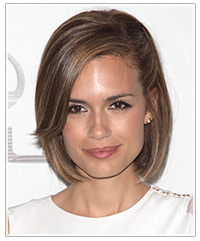 • Start by blow-drying your locks sleek and smooth. While your hair is still wet, create a deep side part and blow-dry your fringe into place. This will help it to sit flat if you normally don't part your hair this far over.
• Once it is blow-dried, use a fine comb to create volume in your crown area, then smooth the top layers of the hair over it towards the back of the head.
• On one side, sweep the hair up and pin it to the side. You can leave a few strands of hair down in front of your ear like Torrey has done here if you prefer to have some hair around your face.
• Give your hair an all-over spritz of gloss spray and you are ready to roll!
To see how you'd look with the great hairstyle pictured in this blog, click on the above image to try the virtual hairstyle with your own photo!