For someone who can pull off long and short hair, it's difficult to decide which suits her best. Let's take a look at some of her recent looks and compare: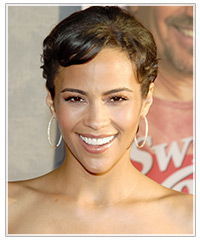 Here, Paula's fabulous bone structure is highlighted with her short pixie haircut. This short hairdo immediately brings the focus to  Paula's high cheekbones, sparkling eyes and megawatt smile. Pixie cuts can be hard to pull off for some women but Paula looks fresh, modern and confident in this short 'do. Another bonus to this style is that it shows off her delicate neck and shoulders. After all, if you've got it, why not flaunt it? Although most women get the front fringe cut short with their pixie, Paula has cleverly left a longer side-sweeping fringe that helps to balance out her high forehead.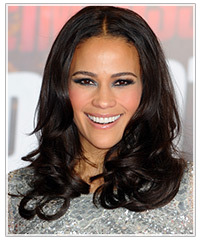 On the other end of the spectrum, here is Paula in glossy long locks. The darker color immediately makes her eyes pop and her hair instantly looks super-healthy. A centre hair part works on her heart-shaped face, as do the curls which frame her jaw line. We think Paula looks pretty in both long and short hair—what's your preference?
See more Paula Patton looks here and try the hairstyles on with your own photo using our Virtual Hairstyler.