The bohemian look is still going strong in Hollywood, as modelled here by Nicky Hilton. She was recently papped looking positively angelic at a charity event, wearing soft makeup and long flowing hair. If you like this Seventies-inspired hairstyle, you can get it in a matter of minutes. It works best with medium length or long hair, but ladies with short hair can do a similar version too.
Get the Look: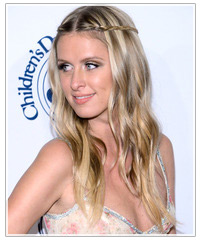 1. Start by creating sleek waves in your hair. If your hair is naturally straight, use large hair rollers or a curling wand. If you have natural waves you can leave them as is or polish them up with rollers or a curling wand.
2. Create a centre hair part in the hair and take a small section of hair from the top of the forehead on each side.
3. Working on one section at a time, divide it into two pieces and then twist them around each other like a rope. Pin each finished 'rope' at the back of the head with hair pins.
Variations
• Instead of roping the hair, braid it.
• For short hair, pin the braids or ropes at the side of the head behind the ear rather than at the back if it's too short.
• If you don't do centre parts, do a deep side part and one braid only, pinning it behind the ear.
To see how you'd look with the great hairstyle pictured in this blog, click on the above image to try the virtual hairstyle with your own photo!