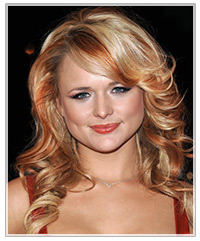 Miranda Lambert loves to wear big, bouncy hair (who doesn't), but this doesn't always suit her wide face. Miranda has a square face and high forehead, so her best style would be one where her forehead is covered, either partially or fully, and length is created around the face. In this photo, Miranda's style looks fine, but some improvements could be made. If you also have a square face, take note to make sure you get the best style for your face shape.
Do:
• Wear bangs. A side-swept fringe like Miranda's is a good choice but a full fringe may suit your face if it's softened up enough—ask your hairstylist for a recommendation.
• Wear your hair long. If you don't like long hair, grow your hair at least past the jaw line and angle the front downwards to create the appearance of longer hair.
• Highlight your hair. This will break up the boxiness of your face shape and add dimension.

Don'ts:
• Don't create 'wings' out to the side as Miranda has done near her temples. This adds extra width.
• Don't flip your hair out to the sides as seen in this photo; it only brings attention to wide jaw lines.
• Add too much curl—again, this creates width in the face. Go for looser waves or straight hair.
See more Miranda Lambert looks here and try the hairstyles on with your own photo using our Virtual Hairstyler.