Let's be honest—Michelle Pfeiffer looks amazing for her age. She is radiant, youthful and can still turn heads wherever she goes.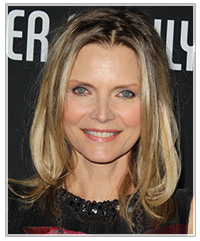 So what is her trick? To start, genetics plays a big part. Plus, it's likely she's had cosmetic work done- although it is subtle and very well done when compared to most celebs these days (Madonna, Melanie Griffith take note). She also knows how to maintain youthful looking hair, which does wonders for her image. But can you really have young-looking hair? Yes! With a few simple tricks, you too can shave the years off your hair.
Here are some tricks that Hollywood actresses use to appear naturally youthful:
• Instead of covering grey hair with a solid color or unnatural-looking highlights from the root, they get their roots died a dark color with the highlights added in an inch or so below. This makes it look like their "natural" darker hair color is still grey-free. Pretty clever trick, and it looks legit!
• Michelle keeps her hair on the long side, with blunt edges. When some women hit 50, they feel they have to chop their hair off. Not true. Long hair looks just as good as 50 as it does 20, so don't book yourself in for a granny cut prematurely! Go for classic styles like a bob and get regular trims to maintain the shape.
• Michelle goes for a blend of natural looking high and low lights. Is it expensive and time consuming? Yes! But if you really want to mimic youthful, sun-kissed hair it's well worth it.
To see how you'd look with the great hairstyle pictured in this blog, click on the above image to try the virtual hairstyle with your own photo!