Her most famous look so far has been The Hunger Games look-long auburn hair and makeup done au naturel. Although she is a natural ash blonde, lately Jennifer Lawrence has been wearing shades that are closer to auburn or a light chestnut brown. Jennifer is fiercely protective of her natural blonde hair (it cost $30 000 to transform her hair from blonde to the perfect auburn for The Hunger Games-true story) but does she actually suit darker hair more?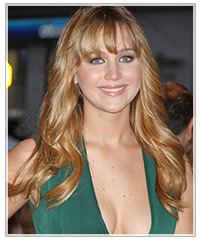 Here, Jennifer looks positively glowing in a golden blonde shade that warms up her complexion and brings out her intense blue eyes. Her skin has a warm undertone so this golden blonde harmonizes well overall.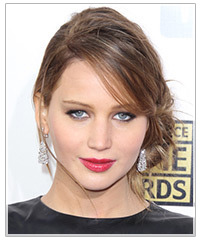 On the other hand, Jennifer looks sultry and sophisticated in light brown hair with subtle sun-kissed highlights throughout. This darker shade makes her eyes pop and gives her a serious look. It is also more natural-looking than the all-over gold tone that she sported as a blonde.
What's your verdict for Jennifer Lawrence? Is she better as a brassy blonde or soft brunette?
To see how you'd look with any of the great hairstyles pictured in this blog, click on the above images to try the virtual hairstyles with your own photo!