This talented singer-songwriter has been every shade of the spectrum from bleach blonde to dark brown and every color in between. However, it does seem that she has a particular affection for orange and red hair. Her fans seem to enjoy it too, as she has been known to scoop up awards like "Sexiest Female Front Singer" in Kerrang's reader's poll. Beauty awards aside, let's take a closer look at that fiery mane of hers!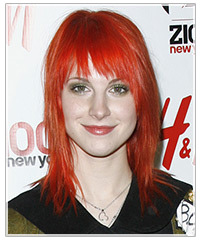 Here, Hayley is rocking a shaggy layered 'do with a jagged fringe. The color is an orange-based red that is bold and intense. It can be tough to get a uniform color throughout the hair with a vibrant color, (especially if you need to pre-lighten) but Hayley has a nice, consistent tone throughout.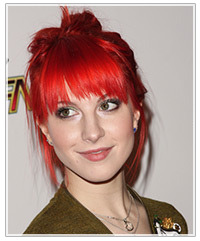 Hayley is going for a pink-based red in this photo, which is a better match for her complexion. It looks instantly rosier next to this color. Her funky hairdo looks great with the jagged, eye-skimming fringe.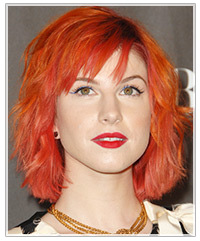 Here, Hayley has bright orange and light red tones blended together for a fiery look. The red color is fading however, so it ends up looking more like pink and orange. Hayley's opted for a side-swept fringe and layered waves to show off her attention-grabbing color. Although the color is definitely unique, her hair looks healthier in the other richer colors that we see above.
See Hayley Williams hair looks here and try the hairstyles on with your own photo using our Virtual Hairstyler.